Ocean Rafting Whitsundays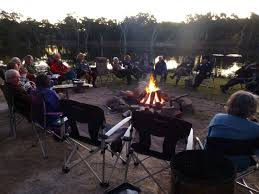 Visit three top destinations whilst having the ride of your life!
Each Ocean Rafting Whitsundays day includes an exhilarating ride to Whitehaven Beach, pristine snorkelling reefs and guided Whitsunday Island National Parks walks.
Their semi rigid inflatable vessels are super fast allowing you to experience a fun ride, adventure and education amongst the natural beauty of the Whitsundays.
Ocean Rafting, operating since 1997, is proud to have special permits allowing us to visit protected areas in the Great Barrier Reef Marine Park.
Ocean Rafting visits the "Wild Side" of the Whitsunday Islands, the uninhabited Islands with beautiful natural scenery brimming with marine, bird and animal life.
The vessels were originally designed and built as rescue crafts and are driven by 450hp engines.
70% of the vessel is shaded providing comfort from the tropical sun.
Your Skipper and Eco Host will ensure you have a fun filled adventure and personalized service, from the courtesy bus pick up in the morning to snorkel lessons and a guided National Park walk in the Whitsunday Islands.
Ocean Rafting has two different tours to choose from, the Northern Exposure and the Southern Lights tour. Both tours depart from the Coral Sea Resort in Airlie Beach.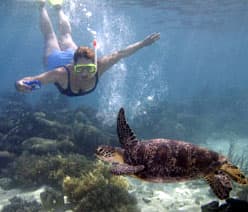 THE NORTHERN EXPOSURE TOUR
They are one of the only tours to have direct access to Hill Inlet Beach at Whitehaven, Whitsunday Island.
Join their guided walk to the stunning views at Hill Inlet Look Out, overlooking the silica sand of Whitehaven Beach, followed by a buffet style lunch at the beach.
Enjoy two different snorkel destinations usually around Hook Island including Mantaray Bay, Maureens Cove and other secret snorkel spots.
THE SOUTHERN LIGHTS TOUR
Spend at least two hours relaxing on the white silica sand of world famous Whitehaven Beach.
Explore the sacred aboriginal caves & beautiful views at Nara Inlet, Hook Island.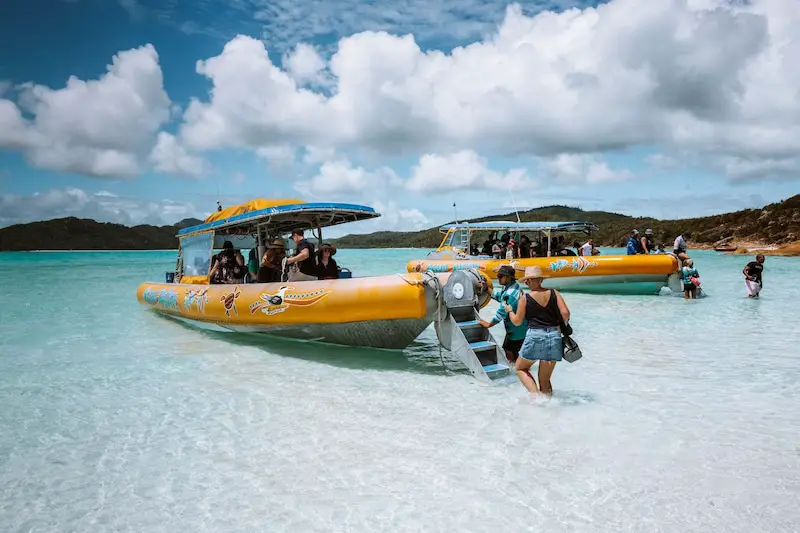 Snorkel "away from the crowds" at Border Island or Dumbell Island and enjoy the amazing hard and soft corals of the fringing reefs.
You can see why they call it 3 days in one!
TOUR DIFFERENCES?
The main difference between the two tours is that the Northern Exposure has more snorkelling time and the Southern Lights offers more beach time.
RATES [2012-2013]
| | |
| --- | --- |
| Southern Lights Tour | Rates |
| Adult | $124 |
| Child (2 - 14yrs) | $81 |
| Family (2 adults + 2 children) | $374 |
| | |
| --- | --- |
| Northern Exposure Tour | Rates |
| Adult | $124 |
| Child (2 - 14yrs) | $81 |
| Family (2 adults + 2 children) | $374 |
| | |
| --- | --- |
| Double Deal (north & south) | Rates |
| Adult (one adult over two days) | $220 |
| Child (2 - 14yrs - one child over two days) | $144 |
| | |
| --- | --- |
| Optional Extras | Rates |
| Buffet Style Lunch | $14 |
| Sun Suit or Wetsuit Hire | $7 |
| YHA cardholders, lunch is half price | $7 |
Departures:
Daily Adventures Depart at 10am & return 4.30pm from Coral Sea Resort, Airlie Beach
Ocean Rafting vessels carry only 25 passengers. Spaces are limited.
All fares are inclusive of Marine Park fees, National Park fees & GST.* Sites are weather & tidy permitting. Ocean Rafting reserves the right to charge their customers a fuel levy if fuel is over $1.50 per litre & the right to arrange alternative itinerary when necessary.
Valid to 31 March 2013
Liability:
Clients should note that adventure travel involves risk. Whilst they make every effort to safeguard their clients, they cannot be held responsible for personal injury or loss due to the actions of the clients which are beyond their control. A signed release will be required from all participants on departure. We recommend you take out travel insurance.
Fitness & Health:
Although good health and a positive attitude are essential, you do not need any prior experience to partake in any of the activities and tours.
WHAT TO BRING?
A beach bag including a towel, hat and sand shoes.
A sweater or jacket in the winter months to protect you from the wind and keep you warm after snorkelling.
Cameras should be in a waterproof case or Tupperware.
Water, soft drinks, fruit juices and chocolates as well as underwater cameras are for sale on board but you are welcome to bring your own.
If you have chosen not to have the buffet style lunch, please ensure that you bring your own as they do not visit any resorts during the day.
WHITSUNDAY ISLANDS
The Whitsunday Islands lie close to the Queensland coast in the heart of Australia's Great
Barrier Reef Marine Park.
The Cumberlands, or Whitsunday Islands as they are often referred to, are actually two drowned mountain ranges cut off from the mainland by past geographical events.
The magic of these Islands was first recorded by James Cook during his voyage of discovery in the year 1770. The Whitsunday's are called continental Islands and are surrounded by colourful fringing coral reefs pulsating with marine life.
THE GREAT BARRIER REEF
Twenty-five nautical miles further northeast is the nearest of the platform reefs that are associated with the Great Barrier Reef.
The Great Barrier Reef is the largest structure on earth ever created by living creatures. It is included in the World Heritage list. Throughout the region the reef structures bar the incursion of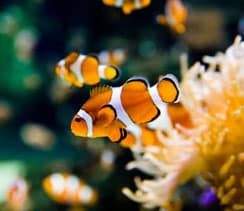 huge oceanic swells from the east, rendering the waters behind them smooth in comparison to the open ocean.
The Great Barrier Reef is the world's largest and most complex expanse of living coral reefs, supporting many unique forms of marine life. There are over fifteen hundred species of fish, about four hundred species of coral animals and a host of sponges, anemones, worms, crustaceans, shells, sea stars and so much more.
The Great Barrier Reef is one of the world's significant turtle breeding grounds to six different species.
Whales, dugongs and dolphins are also found in the area. Humpback whales visit the tranquil Whitsunday waters each year between June and October to give birth to their young. Spectacular displays of breaching and whale sightings are awe-inspiring.
WHITEHAVEN BEACH
The most spectacular beach in the Whitsunday's is the world-renowned Whitehaven Beach , Whitsunday Island . It stretches for some three nautical miles up the eastern side of the largest island. It is composed of pure white silica sand and the aboriginal name for it means "Whispering sands".
AIRLIE BEACH
Airlie Beach is the main gateway to the Whitsunday islands and is situated on the mainland.
Airlie Beach is a tourist destination in its own right. A variety of accommodation from Five star Resorts to backpacker's and everything in between rubs shoulders with a variety of nightlife and restaurants to choose from. The Airlie Beach lagoon is surrounded by the Coral Sea and Airlie Beach downtown, making it a central tropical and tranquil place to relax and enjoy a slice of paradise.