Bedarra Island - Holidays - Tourism - Travel - Vacations
If you are looking for an exclusive retreat that is perfect for couples, honeymooners and anyone just wanting some quality time together then Bedarra Island is waiting for you. Located just off the coast of Mission Beach in north Queensland is this tropical island haven that exudes luxury and tranquillity that is second to none.
Be completely pampered as you forget about the everyday stresses of life and completely immerse yourself in this peacefulness and tranquillity that is this luxurious island retreat. With only 32 guests being able to be accommodated at any one time you will feel like you have the entire island all to yourself as you laze of the golden sandy beaches, swim in the azure blue waters or wander through the lush tropical rainforests.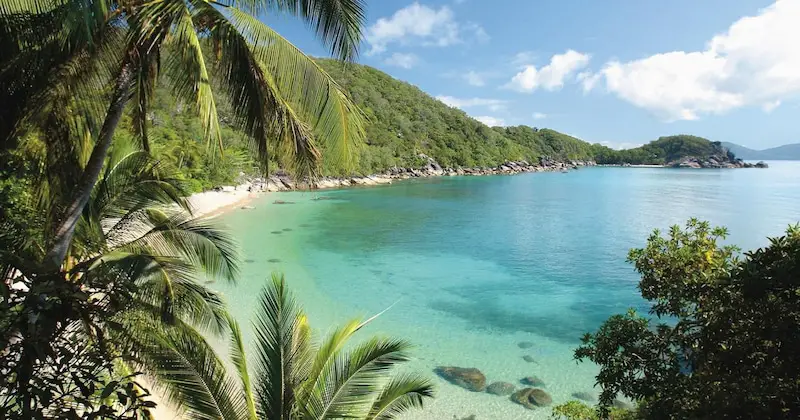 Scattered throughout the rainforest and tucked away for complete privacy or beautifully appointed villas that boast your own ensuite, king size bed, spacious living area, hammock and private balcony! Spend your days sipping champagne as you kick back in your comfortable hammock as you read a good book. Bedarra Island is one of those rare gems where you experience the finer things in life without the high expense.
All of this relaxing and rejuvenation really works up an appetite so expect to be wined and dined until your heart is content. Award winning chefs prepare a new menu for your delight everyday with perfectly tasting delights to choose from. Sit on the open-air terrace or maybe even enjoy a romantic picnic that can be prepared by one of the friendly staff and make your way to a secluded beach where you can spend some quality time together.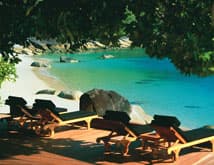 With so many activities to take part in while you are here such as sailing, paddle boats, fishing, snorkelling, diving  or maybe taking out a dinghy to go exploring around the rest of the island, you can fill up your days as much as you like with an array of things to see and do. There is also a very indulgent treat of therapeutic massage which takes place in the privacy of your villa.
Seen as a destination fit for the rich and famous, you too can be whisked away and be completely pampered on a holiday like you have never experienced before. Luxury accommodation that is fit for king and queen, exquisite cuisines, outstanding service, pristine beaches, azure waters and warm tropical weather is the making of an unforgettable escape for the two of you.
So if you are looking for that perfect honeymoon destination or a retreat where the two of you can spend some quality time together, then look no further than beautiful Bedarra Island. Call us today so that we can begin to make all of the necessary arrangements for you.