Burleigh Heads & Miami Beach - Tourism - Holidays - Travel
Burleigh Heads and Mermaid Beach make up an important part of the Gold Coast holiday scene. There are many new high rise resorts which provide a wide range of places to stay and the coastline here offers a multitude of options. Surfers love the break at the headland while families and boaties are happy playing in the Tallebudgera Creek. The headland itself is a National Park and is popular with nature lovers of all descriptions.
The many new resorts surround both the Burleigh Heads shopping centre, the beach and the national park, making it the ideal place to stay as all the main attractions are within easy walking distance. There is also a plaza style shopping centre a little further back from the beach. The beach itself is lined with a park that features many tall Norfolk island pine trees. Within the park area and the local shopping centre, there are many alfresco cafes and restaurant to enhance your holiday fun.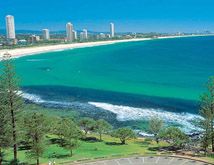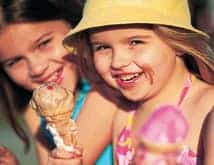 Getting to Burleigh Heads is too easy. Bus services run continually along the Gold Coast highway which runs right through the town. Most visitors fly into Coolangatta airport which lies only a few kilometres to the south and then catch the shuttle service to their accommodation. Once there, everything is within walking distance. Bus services will also take you and the kids to any of the theme parks or into central Surfers paradise. As the Gold Coast is such a popular tourist region, there are many tourist attractions and tours that you can enjoy while you stay in beautiful Burleigh Heads.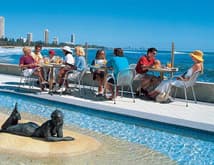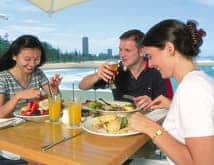 Important Travel Information: