Cape Tribulation Overnight Tour - Cape Trib Connections
Where they GO, What they SEE
Alexandra Range Lookout
Daintree Mangrove Sanctuary (Chance to buy some breakfast)
Guided Rainforest Walk (may not be available for pax staying at Crocodylus)
Daintree River Croc Cruise
Mossman Gorge Swim/Walk
Visit Port Douglas
Afternoon or morning tea and biscuits
Rex Range Lookout
Free time at your rainforest accommodation
Tour Details: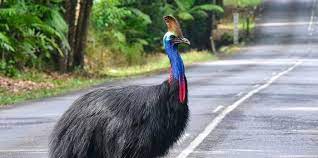 Your tour commences at your accommodation in Cairns where the enthusiastic Rainforest Guide collects you. Cape Trib Connections departs Cairns by 8.00am heading north through the sugar cane fields and northern suburbs of Cairns in a comfortable air-conditioned bus. Pickups in Port Douglas are at 8.45am. On your way to Port Douglas you travel along the Captain Cook Hwy.
This is truly one of most scenic coastal drives in Australia and compares favourably with the Great Ocean Rd in Victoria. You drive through the lush green fields of the Mossman sugar cane area looking at the spectacular rainforest clad coastal mountain ranges along the way.
Then you cross the mighty Daintree River on a cable ferry and enter the Cape Tribulation section of the Daintree National Park. Here things begin to change for the better. Then find the road narrows and the rainforest towers over us as we enjoy the ever-increasing beauty of this ancient Gondwana Rainforest.
This place is truly a window into the past with plants such as the King Ferns which have it's historical roots set firmly in the Carboniferous age some 360 million years ago. Then you climb the Alexandra Range entering World Heritage Rainforest as we traverse the peak. There are superb views to be experienced from the Alexandra Range lookout. You can expect to see over a hundred kilometres on a clear day while viewing the mouth of the Daintree River and out towards Snapper Island.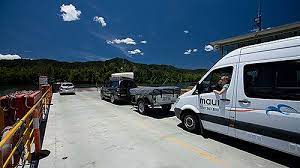 This enjoyable drive is both fascinating and interesting as you pass through the rainforest community at Cow Bay before crossing several creeks on your way to the Cape. They will drop you at your accommodation of choice at approx 12.00pm where you can laze by the pool or on a sandy palm fringed beach. After days of fun, sun, action or relaxation your coach departs the "Cape" at approx 1.00pm. They head back to Cairns enjoying activities along the way.
Return Transer not including accommodation AU$119 pp

Valid till 31 March 2015
2 DAY 1 NIGHT TOUR + DORM PACKAGE $144
3 DAY 2 NIGHT TOUR + DORM PACKAGE $169
Departure:
Every Day - except Christmas Day
Cairns 7:30am
Return approx 6:30pm
What to Bring: Camera, Towel, swimwear, sunscreen, hat and warm jumper during winter months.
Not included in price: Natural Fruit Ice Cream at fruit farm.
ACCOMMODATION OPTIONS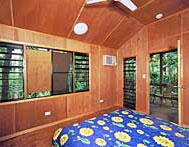 Cape Trib Beach House: Tropical Beachside Paradise - the Cape Tribulation Beach House Resort is unique 3 - 4 star Cape Tribulation accommodation. Nestled within the 110 million year old Daintree Rainforest, this back to nature Cape Tribulation Resort is situated on 7 acres of absolute beachfront, with direct access to the Great Barrier Reef, offering all Cape Tribulation Beach House Resort guests a truly wild, unique and private tropical holiday experience. Features a beachside bistro (offers breakfast, lunch, dinner), bar and pool with lots of activities - beach volleyball, nightwalks, mountain biking and much more.
Crocodylus: Rainforest Adventure - Unified by the desire to stay for a while in this unparalleled natural environment, people from all walks of life are attracted to Crocodylus. Children are welcome and the atmosphere is friendly and casual. A giant strangler fig tree provides a dramatic centrepiece to the village. The comfortable accommodation huts are built up off the ground and spaced out amongst the dense tropical rainforest. Located approximately 20km from Cape Tribulation it features a pool, restaurant and Orange Rope Walks.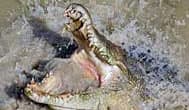 Daintree Sanctuary: Mangrove Wildlife Sanctuary - Staying overnight at the sanctuary has some distinct advantages over the day visitor. This option presents magnificent photographic opportunities, human interactivity with tame wildlife or the naturalists special shot of a rare endangered species e.g. a Golden-shouldered Parrot. The Sanctuary is the only wildlife nature park or zoo in Daintree World Heritage Listed rainforest.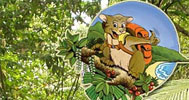 Ferntree Rainforest Lodge: Relax in Style - Here's an environment-friendly resort that's easy on the visitor too. Set back in the heart of a lush coastal rainforest, a short stroll from Cape Tribulation's beach and its famous mangrove boardwalks, Ferntree Rainforest Lodge is superb, affordable tropical getaway. Ferntree Rainforest Lodge makes the very best of this setting, featuring low pitched buildings that are set harmoniously within the vivid green landscape.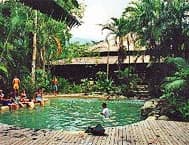 PK's JUNGLE Village: Relax, Play & Enjoy - Budget Resort Accommodation for backpackers, travellers and locals minutes - from the beach, in the heart of Cape Tribulation, surrounded by the Daintree Cape Tribulation World Heritage Rainforest of Australia. The only budget accommodation in the heart of Cape Tribulation, PK's offers doubles and dormitory style accommodation, all with air-conditioning, as well as camping facilities in a pristine lush tropical setting of the Daintree with just a short walk to the beach.