Tjapukai Aboriginal Cultural Park
Tjapukai Aboriginal Cultural Park showcases the culture of the rainforest people of Tropical North Queensland.
Situated on 25 acres of land owned by the Tjapukai people at Caravonica, north of Cairns, Tjapukai Aboriginal Cultural Park is a stunning theatrical interpretation of Aboriginal culture from the beginning of time into the future.
Seven separate arenas allow visitors to experience every facet of the rainforest people's culture - from the provocative History Theatre to the inspiring Creation Theatre, and the original Dance Theatre and the interactive Camp Village, where visitors can learn didgeridoo playing and boomerang throwing.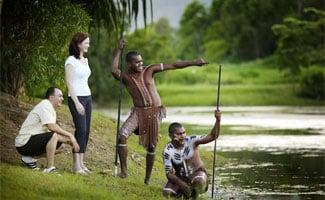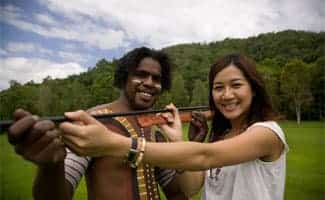 DAY TOUR EXPERIENCE INCLUDES:
Didgeridoo - A Journey
» Demonstrates how to make and play a didgeridoo
Hunting & Weapons Demonstration
» A warrior show on how the Aboriginal people used there tools and weapons
Magic Space
» This is Tjapukai's museum of authentic stone-age artefacts
The Creation Theatre
» Holographic projections and performances of a Dreamtime story
Dance Theatre
» Tjapukai's dance, song and corroboree show
Bush Foods & Medicine Demonstration
» Learn how the Tjapukai people have discovered rich food sources and medicines from the rainforest
Spear & Boomerang Throwing
» Be instructed how to use and throw their traditional spear and boomerang
Face Painting
» Traditional face painting with natural colours of the rainforest
Bibunbay Kids Program
» Children will get to enjoy their cultural experience in this special program
Optional Extras:
Boomerang Restaurant
» Stay for morning or afternoon tea or buffet lunch
Gallery
» Authentic Aboriginal products on display and for sale, open 7 days a week.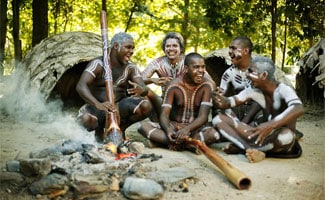 PRICES [2013-2014]
Adult
Child
Family
Tjapukai by Day Prices
$36.00
$18.00
$90.00
With transfers ex Cairns:
$58.00
$29.00
$147.50
With transfers ex Northern Beaches:
$58.00
$29.00
$147.50
Rates are valid between 01 April 2013 + 31 March 2014
Session Times:
Didgeridoo - A Journey
Morning
9.15am, 11.15am
- 20 minute session
Afternoon
1.15pm, 3.15pm, 4.15pm
Creation Theatre
Morning
9.45am, 11.45am
- 20 minute session
Afternoon
1.45pm, 3.45pm
Dance Theatre
Morning
10.15am
- 25 minute session
Afternoon
12.15pm, 2.15pm
Cultural Village
10.45am, 12.45pm, 2.45pm
- Hunting & Weapons demonstrations and Bush Foods &Medicines demonstration
Boomerang Throwing and Spear Throwing
10.45 - 11.45am,
12.45 - 1.45pm,
2.45 - 3.45pm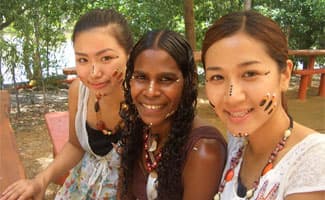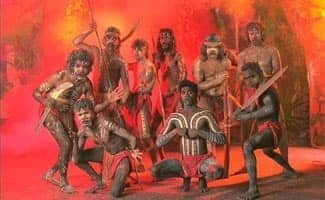 GETTING THERE:
Tjapukai is located at Caravonica, near Smithfield, 15 minutes north of Cairns along the Captain Cook Highway.
Shuttle Transfers
Tjapukai offers a transfer shuttle service which can collect and return guests from their accommodation.
This service operates hourly, and guests are advised of the time of pick-up and departure when making their reservations. The region of operation of the shuttle service includes Cairns through to the Northern Beaches to Palm Cove.
Public Transport
The main convenient public transport is either via taxi service direct to and from Tjapukai, or by the Marlin Coast Sunbus using Route 1 or 1A from the Cairns Central Business District City Place bus stop. Costs vary, depending on the bus zone travelled.
Self Drive
Travelling from Cairns city in a northerly direction, continue following the Captain Cook Highway past the Airport. Some 15 minutes after leaving Cairns is the area known as Smithfield / Caravonica Lakes, easily identified by the Skyrail Rainforest Cableway and the Tjapukai Aboriginal Cultural Park situated side by side, facing the main road.
Take the roundabout and turn left from it, and you will be on the approach road to Tjapukai.