Dunk Island - Holidays - Travel - Vacations - Tourism
Dunk Island is a great holiday destination in Australia, it is located off the coast of Mission Beach, just south of Cairns in tropical north Queensland. The island is a National Park and lies in the beautiful Great Barrier Reef Heritage area. It has lush rainforests, sandy beaches with rocky shores, it also has a semi rugged terrain with foothills making Mt Kootaloo the highest point on Dunk Island. Everything about the island says beauty, casual style and pure enjoyment. Dunk Island over the years has gained the title - Australia's most beautiful tropical rainforest island. This island offers a fantastic array of activities, facilities and experiences. Dunk Island is also known by the Aboriginal name of 'Coonanglebah' - it means the Island of Peace and Plenty. Today, Dunk Island continues to hold that label.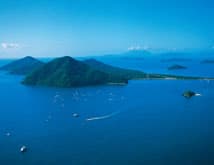 Due to the diverse landscape, it provides the choice of many exciting activities. Why not start the day with a walk through the rainforest and enjoy the incredible views once you reach the top of Mt Kootaloo. The island offers guided water tours, the choice is yours to either take an exciting Jet Ski trip or a leisurely Sea Kayak paddle across the waters of Dunk Island. Whichever you choose, there will be snorkeling opportunities and coastline discoveries.
There is so much to do at the resort. You could play a game on the 18 Hole golf course that is quite spectacular, hit a few balls on the tennis or squash court, ride a horse along the beach, archery or badminton and many watersports. Other activities are to take a snorkel & dive trip to the Great Barrier Reef, fishing charters, motorboat hire or if your adventurous - Skydiving! But if you have come to the island to relax, this is certainly achievable. The island resort can supply that with their massage centres, day spas and restaurants. Dunk Island is also known as one of the best islands to cater for children aged between 3 - 12 years old.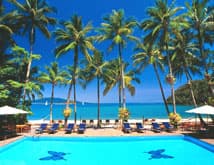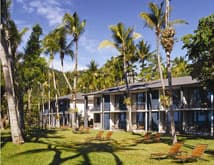 Dunk Island Resort has many dining options to choose from. The Beachcomber Restaurant specialises in fresh tropical cuisine for both breakfast and dinner. There is the Terrace Restaurant which specialises in Italian cuisine. The Jetty Cafe overlooks the jetty on Brammo Bay and offers casual beachside lunch and dinners. Noodle Cafe offers Asian stirfry's and noodle dishes. Then there is the Plantation Bar, it offers cocktails, coffees and fresh juices and it's the perfect place to unwind of the days experiences and enjoy Dunk Islands tropical ambience.
Dunk Island, Australia offers a holiday option for everyone, whether your a couple or a family, young or old, you will love this island. The tropical temperatures make it a fantastic Queensland island destination for the whole year. On the twentieth of October, 2010 it was announced that Dunk Island Resort had won the award at the World Travel Awards for the best family resort in Australasia. Congratulations to everyone at Dunk Island