Kingfisher Bay - Cool Dingo Tour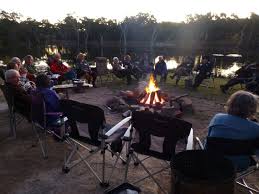 THE BEST WAY TO DISCOVER FRASER
FUN AND ADVENTURE FOR 18 TO 35's
'Best Experience in Queensland'
With an action-packed Cool Dingo Tour, you'll get the max out of your Fraser adventure! Explore this World Heritage wilderness with a true Fraser guru... see the best tour sites without giving up your creature comforts!
Cool Dingo Tours are fully guided and all-inclusive, with comfy lodge accommodation, great buffet meals, awesome 4WD tours as well as return catamaran transfers.
Meet people from all over the world as you recount your adventures and party in the Dingo Bar. With plenty of action, great value and fun to boot - you'll see why this is Fraser's best guided tour!
NO TENTS, NO SLEEPING BAGS, NO COOKING, NO DRIVING, NO WORRIES!
While taking your tour consider staying at the superb accommodation of Kingfisher Bay Resort.
THE "NO WORRIES" FRASER TOUR... YOU'D BE MAD NOT TO!
Fraser really is a must-do! Seventy-Five Mile Beach would have to be the most amazing highway on the world - imagine 4WD-ing along a surf-pounded beach, stopping to admire the vibrant Coloured Sands, splash in the Champagne Pools, float down fast-flowing Eli Creek, climb Indian Head to spot sharks and rays, and even take your photo at the rusting Maheno Shipwreck... a World's Best Beach!
So, what's the best way to explore this World Heritage wonder? You'll be glad you chose a guided tour - making your way through Fraser's steep and bumpy sand tracks can be quite a tricky business! You'll spend each full day exploring this World Heritage wilderness and get to see the most awesome sights - your Cool Dingo ranger-guide stays with you the whole time, so you'll learn heaps and have loads of fun. The tour has Advanced Eco Certification from Ecotourism Australia - They do all they can to protect this miracle of nature!
After each full-day tour, return to the lodges for a refreshing shower, great buffet dinner and comfy night's sleep, then wake up to a hearty buffet breakfast to get you ready for the day's adventures. Meet people from all over the world as you recount your adventures and party in the Dingo Bar & Nightclub!
You can choose from 3 Day 2 Night or 2 Day 1 Night tours from Hervey Bay, 5 Day 4 Night or 4 Day 3 Night tours from Brisbane. You can even book an open-dated tour... with daily departures and so many options they've got you covered for your Fraser adventure!