Australian Outback Spectacular
:: Click Here For A List Of Gold Coast Accommodation
THE SHOW
The Australian Outback Spectacular has begun a new chapter with the exciting NEW dinner show - Australian Outback Spectacular 2 'Heroes of the Light Horse'.
Since opening its doors in April 2006, Australian Outback Spectacular has entertained over a million people from all over the world, with its celebration of Australian stock men and women at work and play.
The audience learns of their history, marvels at demonstrations of their riding skills, laughs at the gags and enjoys the songs and poems that are not only theirs but ours.
And now, you can discover the Outback Spirit as one of Australia's most stirring and remarkable true stories is retold. This time, Australian Outback Spectacular 2 celebrates the heroes of the legendary Australian Light Horse!
With an amazing cast of larger than life characters, magnificent animals, stunning special effects and a delicious three course dinner, it's the Gold Coast and Australia's newest must see live show, proudly presented by R.M. Williams.
PRICING:
Adult: $100.00
Child: $70.00
Pensioner: $90.00 (only available to Australian and New Zealand residents)
» Available on Tuedays, Wednesdays, Fridays & Sundays (Sundays show is at 12:30pm)
Adult: $120.00
Child: $90.00
Pensioner: $110.00 (only available to Australian and New Zealand residents)
» Available on Saturdays
Admission is free for children 3 years or under (not including seat and meal).
A full child rate is applicable for children aged 4 - 13 years inclusive or for children 3 years and under where an individual seat and meal is to be served.
A limited number of seats are available for guests in wheelchairs.
Valid: 31/03/14 (subject to change without notice)
HOW TO GET TO THE SHOW:
By Car
From Surfers Paradise, drive along the Gold Coast Highway to Smith Street and follow the signs to Brisbane and the Pacific Motorway. Take Exit 60 to Warner Bros. Movie World and Wet'n'Wild Water World.
From Brisbane, follow the signs to the Pacific Motorway and the Gold Coast. Take Exit 60 to Warner Bros. Movie World and Wet'n'Wild Water World.
Free car parking is available at the front of the attraction.
Transfers
If you don't have a car, there are plenty of transport options like a taxi or bus to get to Australian Outback Spectacular.
PERFORMANCE TIMES
Australian Outback Spectacular comes alive nightly, from Tuesday to Sunday*, except Christmas Day, 25 December.
New 12.30pm Matinee Lunch and Early Dinner Show Schedule now available.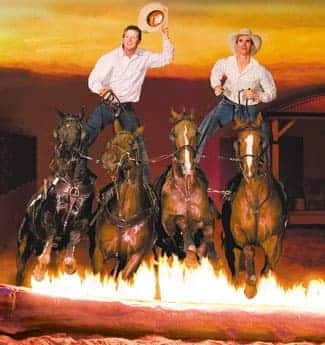 In line with the launch of our exciting new dinner show - 'Heroes of the Light Horse', Australian Outback Spectacular will also introduce for the first time, a 12.30pm matinee lunch show. Don't miss your chance to experience this wonderful new show which retains all the fun, charm and skill of the original but with an important difference, this time we celebrate the link between our stockmen and the legendary Australian Light Horse.
The 12:30pm matinee shows will be available for sale on selected Sundays commencing Sunday 27th September 2009.
And just in time for the peak school holiday period, Australian Outback Spectacular will re-establish an Early Dinner Show schedule on selected Friday and Saturdays commencing Saturday, 26th September 2009. The early dinner show will commence at 4.30pm, with the doors opening at 3.30pm to allow guests to enjoy the pre-show entertainment. The early show will conclude at 6.00pm. This early show time is perfect for holidaying families to experience the show. The second show will be scheduled as per normal show times for a 7.30pm start with the pre-show entertainment commencing at 6.30pm when doors open. The second show will conclude at 9.00pm.
Show duration is 1.5 hours including three course Aussie BBQ meal.
* Show schedule may be subject to seasonal changes throughout the year.
DINNER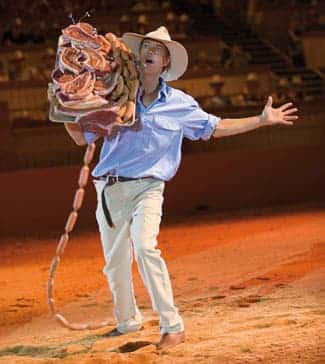 3 Course Aussie BBQ Dinner
A mouthwatering and tantalizing array of Aussie food will make up the delicious dinner you will be served during Australian Outback Spectacular!
You'll start off with a tasty mixed Queensland Salad served with tangy mango dressing… this will be followed by barbecue tenderloin beef steak with rich gravy, seasoned with Kakadu plum sauce and served with garden vegetables and Australian Damper, then it's finished off with traditional baked Pavlova with Queensland berries and country cream and Bush Billy Tea!
Parents now have the choice of choosing prime beef sausages over steak as an optional meal choice - just for kids!
For vegetarian guests, mains will consist of a Ratatouille mix of capsicums, onion, zucchini, egg plant, chopped tomato and fresh herbs mixed with a bush tomato sauce, served in a camp oven pot and topped with pastry.
You'll also be served a choice of either beer, wine or soft drink throughout the show.
Special dietary variations can be accommodated for guests requiring options to the standard menu based on medical advice. Please advise at time of telephone booking.
LIVE MUSIC
The music of Australian Outback Spectacular delights and captivates audiences with its authentic Australian sounds and specifically Australian flavour.
It combines the traditional film-score orchestral style music with a contemporary country blue/grass rock style. This magical combination provides a musical feast to compliment the delicious 3 course Aussie BBQ dinner served to audiences.
SOUND AND LIGHTING
The lighting system is comprised of over 300 fixtures - 240 colour change scollers and 60 moving lights. The lighting console is the flag ship of the Avolite range – The Diamond 4. Two large format Pigi Projectors screen stunning images of outback scenes onto the entire rear wall of the arena. Add to this the rain effects (yes it rains in the venue!) and the fog and the land comes alive.
Australian Outback Spectacular has the latest in audio technology featuring 6.1 surround sound and specially designed FX speakers to enhance the whole experience.
THE ANIMAL STARS
Australian Outback Spectacular is a first of its kind in Australia and features an amazing cast of talented performers, skilled stockmen and women and a huge array of delightful animals including 59 horses, and other favourite Australian animals including 11 Longhorn and 11 Santa Gertrudis cattle, three camels, 50 sheep, three dogs and five piglets!
All of the animals in Australian Outback Spectacular have been trained by using positive reinforcement. Highly experienced Horse Master – Tony Jablonski and Assistant Horse Master – Brett Welsh – have been involved with training animals for live shows, television and movies for numerous years.
Explore the web site to discover more about the animal stars of the show.
GETTING TO THE GOLD COAST
Arriving by Air
Australia's low-fare airline Jetstar, offers fantastic fares for your holiday to the Gold Coast.
By Car
| | | | | |
| --- | --- | --- | --- | --- |
| Gold Coast to |    | Distance in Kms |    | Driving Time |
| Sydney |    | 947 |    | 11 hr and 25 minutes |
| Canberra |    | 1251 |    | 15 hrs |
| Melbourne |    | 1840 |    | 22 hrs and 10 minutes |
| Brisbane |    | 80 |    | 1 hr |
Public Transport at Brisbane and the Gold Coast
Bus

Train

Chauffeured Limousines

Taxis