Holiday, Travel and tourist information for Everything in Hervey Bay
Hervey Bay is becoming more than just the fastest growing residential city in Australia and the jumping off point for Fraser Island. It is now the center of a huge regional tourist destination with many holiday activities that you simply can't experience anywhere else in Australia. New resorts are almost continually being completed and the holiday infrastructure is bursting at the seams. An $800 million dollar redevelopment of the Urangan boat harbour precinct is imminent and includes new marina's and resorts. The new $12 million water park known as WetSide is now in full operation and the Hervey Bay whale waching fleet goes from strength to strength with two new purpose built vessels hitting the water for the 2010/11 season.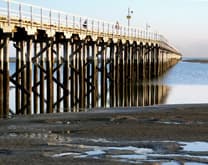 Whale Watching in Hervey Bay will be entering its 22nd year in 2010 and some of the original operators are still taking customers out to see the whales. You would have to have been living under a rock for the past twenty years if you havn't heard about going whale watching in the calm waters of Hervey Bay. There is nowhere else like it and don't think that because you have seen a brief glimpse of a migrating whale from the gyrating deck of a boat on the open ocean that you have had a good whale watching experience. Come to Hervey Bay and experience whale watching the way it is meant to be with hundreds of whales, calm water and up close and personal experiences.
Some of the boats in the Hervey Bay fleet are Spirit of Hervey Bay, Whalesong Cruises, Freedom Whalewatch, Tasman Venture, M.V. Mikat and Blue Dolphin. Some combination tickets are also available at a discounted price to also combine a Fraser Island tour with Kingfisher Bay resort.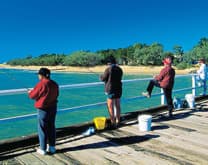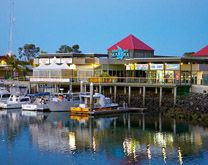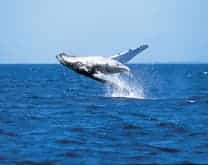 The majority of Whales viewed in Hervey Bay are southern humpbacks. These whales are known to be the most interesting to watch as their activities can be quite spectacular. The humpback is one of the great whales and is the fifth largest species. Adults grow to around 40 feet in length and weigh around 40 tonnes .Hervey Bay is a staging and resting area for the humpbacks during there northern migration. They come to Hervey Bay to mate, calve and suckle their young prior to returning to Antarctica for their summer feeding activities. An added attraction in Hervey Bay is the occasional visits by Nigaloo, the white whale. Nigaloo is an albino humpback and is thought to be a male. He is sighted at least once during most whale watching seasons in Hervey Bay. During a whale watching trip it is also common to see dolphins, turtles and dugongs. The other major tourist draw card that brings visitors to the region is Fraser Island. Fraser is the largest sand island in the world and has magnificent scenery that includes superb lakes, magnificent rainforests and beautiful beaches. Hervey Bay is the main departure point for tourists visting Fraser Island with vehicle barges departing from both the Urangan boat harbour and from River heads. Hervey Bay also has a domestic airport with direct jet flights from Sydney. Virgin Blue flys in several times a day.
Holiday accommodation in the city can be arranged at all levels. Such places as BreakFree Great Sandy Straits Marina Resort, Mantra Hervey Bay, and Kondari Resort are the most popular. On Fraser Island accommodation is available at Mercure Kingfisher Bay Resort, Eurong Beach Resort, Sailfish on Fraser, Cathedral Beach Resort, and Fraser Island Backpackers. All tours and accommodation can be booked on our freecall number 1800 815 378
Along the Fraser Coast and in Hervey Bay waters are the best fishing charter boats operate year round from the Urangan Boat harbour. There are a range of tours available including day trips, overnighters and extended trips to the Bunker group of islands at the southern end of the Great Barrier Reef. Both game and bottom fishing is catered for. Everything you will need for a fantastic Hervey Bay holiday is available from this website.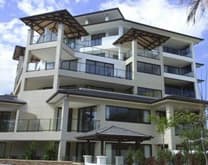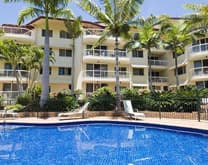 Important Travel Information: