Main Beach Cruises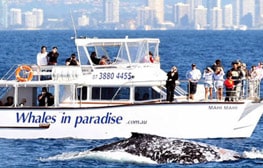 Main Beach adjoins the Southport Broadwater which has many excellent cruises to entertain you and your family. Some of the most popular of these include whale watching trips which operate during the winter and spring months when thousands of humpback whales migrate past the Gold coasts beautiful beaches. Half day trips operate both morning and afternoon during the season with gauranteed sightings. Fishing charters operate on a similar basis. Fishing cruises operate both inside the calm waters of the Broadwater as well as to the outer reefs on the open ocean. Both of these cruise options offer pick up services from your accommodation.
Main Beach accommodation is all only walking distance from the marina so it is convenient to all the resorts and apartments.
For the traveller who likes to dine out or go on a sightseeing, the broadwater also provides many cruise options. You can spend the day aboard a tall ship cruising through the beautiful waterways to the north of the Gold Coast. Floating restaurands operate day and night and scenic cruises through the canals of the Gold Coast operate daily. You can even choose a cruise for a romantic evening aboard a gondola. Main Beach as many different cruise options to entertain you, day or night.