Moreton Bay
» Klik hier voor Accommodaties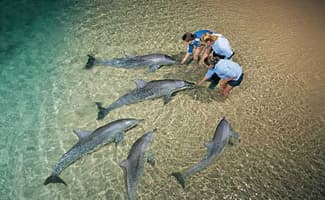 Moreton Bay biedt een prachtig assortiment van eiland ervaringen aan allen dicht bij de hoofdstad van Brisbane. U kunt naar vele plaatsen gaan via een voertuig veerboot voor een dag naar het strand te gaan, of verblijf langer bij één van de vele kampings, hotel-motels, backpacker herbergen of eilandtoevluchtsoorden zoals Tangalooma Wild Dolphin Resort. De meeste aanpassingen zijn binnen loop afstand van de lokale stranden.
Moreton Eiland is één van de grootste zandeilanden in de wereld, het is 38 kilometer lang en bestaat hoofdzakelijk uit Nationaal Park. Moreton Eiland is echt een natuurlijke schoonheid. Enkel 35 kilometer en een twee uur durende veerboot overtocht van Brisbane, Moreton Eiland biedt een assortiment van betaalbare accommodaties aan, van het kamperen tot cabines en vakantie flats. Voor de enthousiaste surfer moet u niet de golven missen bij North Point, Honeymoon Bay en langs de onaangeroerde 36 kilometers oostelijke strand van het eiland.
Duikers kunnen de adembenemende riffen met inbegrip van Curtin Reef en de schipbreuken van Tangalooma onderzoeken, welk een assortiment van visleven en koraal vormingen aanbieden. Er zijn vele activiteiten die het eiland heeft met inbegrip van 4WD toeren, vissen, zand bobsleeën en veel meer.
Noord Stradbroke Eiland is één van Australisch voornaamste natuurlijke schatten en een perfecte vluchtbestemming, gemakshalve gevestigd op de drempel van Brisbane. "Straddie" zoals de bewoners het noemen, is één van de grootste zandeilanden in de wereld met witte zand stranden die de oostelijke kant omringt. Moreton Bay ligt langs de kust van de westelijke kust steden van het eiland, dit creërt de kans voor enorme vis vangst activiteiten.
Noord Stradbroke is een populaire vakantiebestemming voor families, paren en avontuur-zoekers. U kunt aan één van de vele activiteiten deelnemen dat het eiland aanbiedt. Voor diegene die naar avontuur en pret hunkeren zijn er 4WD safaris, zand surfen, golf, en een variatie van aquatische activiteiten. Of voor die die ontspanning zoeken heeft het eiland het kegelspel, vogel waarnemingen, picknick plekken en toeristen wandelingen.
Als u meer information nodig heeft, dan kunt u Andrea bereiken via email: [email protected] of per telefoon op: +61 7 4128 6607.