Lady Elliot Eiland
Lady Elliot Eiland is het zuiderlijkste eiland binnen het Great Barrier Reef Mariene Park. Het ligt 85 kilometers noord oosterlijk van Bundaberg en is een onbedorven koraaleiland die eigenlijk een deel van het rif is.
Duiken is hier ongelooflijk met 10 duik plaatsen met inbegrip van Lighthouse Bommie, Coral Gardens, Moiri en Shark Pool. De zichtbaarheid is uitstekend en reikt tussen 25 tot 50 meter. Verken de vele schipbreuken in de wateren van het eiland.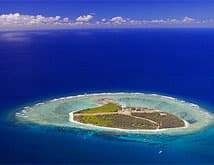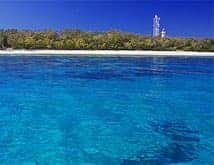 Lady Elliot Eiland vakantieverblijf is rustig, ontspannend en milieu georiënteerd, met belangrijke schildpad en vogel roekennesten. Het heeft ook een rif onderwijs centrum voor dichtbije opname van de natuur. Het eiland is een populaire scubaduiken en snorkel plaats door zijn interessante duik ontdekkingen. Het verblijf heeft geen telefoons, geen TV, geen radio & geen herries.
De zee schildpadden met inbegrip van de bedreigde Dikkoppige Schildpad nesten op Lady Elliot gedurende de zomer maanden van laat in de middag tot vroege in de ochtend tussen November aan Januari. U kunt baby schildpadden onder de dekking van duisternis naar de zee zien kruipen van Januari tot April.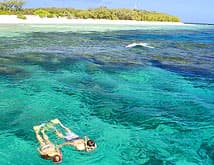 Op Lady Elliot Eiland, bepaalt u het tempo. U kunt een groot boek lezen op een beetje verlaten strand of ga duiken met één van de gekwalificeerde duik instructeurs, of onderzoek het eiland en de belangrijkste oriëntatiepunten, Lady Elliot vuurtoren, één van de eersten die in Australië gebouwd waren gemaakt van een houten geraamte en gietijzer aan de buitenkant. Een waar eilandparadijs - Lady Elliot Eiland, bezoek het vandaag!
Als u meer information nodig heeft, dan kunt u Andrea bereiken via email: [email protected] of per telefoon op: +61 7 4128 6607.