Main Beach
Main Beach is één van Gold Coasts prachtige open zee stranden, het is het beste te zwemmen, surfen en vroege ochtend wandelingen te doen.
Tijdens uw bezoek zorg ervoor dat u naar de stylishe Main Beach cafés en restaurants gaat bij Tedder Avenue waar plaatselijke bewoners voor koffie samenkomen en in de fijnste eet plaatsen in Main Beach dineren. Er is ook de historische Main Beach Bad House om te bekijken wanneer u een beetje vrije tijd heeft. Enkel ter noorden van Main Beach is The Spit – deze heeft een halve-kilometer pier en het thema park Sea World. Het heeft ook twee 'Queensland houdt Australië schoon' prijzen gewonnen.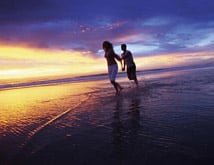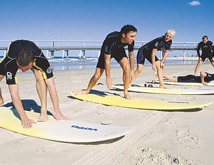 Sommige van Gold Coasts exclusieve accommodaties liggen hier, met inbegrip van Palazzo Versace - het werelds fijnste Versace hotel en Sheraton Mirage. Op de eerste zaterdag van elke maand houdt de populaire Marina Mirage Winkelende Centrum het boeren markt. Er zijn talloze dingen in dit gebied te doen, ga op een zonsondergang cruise, ga zeilen op een 84ft schip, neem een avontuur met het parazeilen op, ga duiken, boek een Tiger Moth vlucht om de stad vanuit de lucht te zien. U kunt de amfibische Avonture Duck in dit gebied boeken.
Voor diegene die in aanraking met de natuur willen komen, daar is de federatie wandeling te ontdekken, het kronkeld door het kust regenwoud deze is het hele jaar rond fantastisch. De Gold Coast gemeente heeft onlangs een kunstmatige rif ontwikkeld om erosie in het gebied tegen te houden, diverse duik plaatsen zijn daar nu en dichtbij het Schotse prins schipbreuk.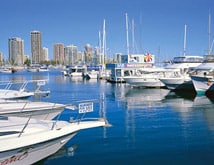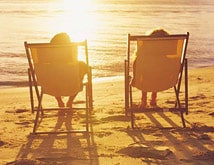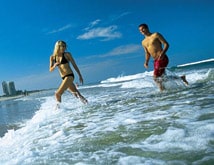 Als u voelt dat u meer beweging nodig heeft tijdens uw vakantie neem dan een rit op het fietspad die langs de populaire toerist plaatsen van Main Beach over de Nerang Rivier naar Anzac Park en dichtbij de Southport Broadwater loopt. Er zijn rolstoel toegankelijke toegangen bij Main Beach plus de strandmeesters patrouilles bij Narrowneck en Main Beach. De accommodaties in het gebied varieeëren van toeristenparken met cabines, caravans en het kamperen tot appartementen, flats en motels.
Als u meer information nodig heeft, dan kunt u Andrea bereiken via email: [email protected] of per telefoon op: +61 7 4128 6607.