Tropisch Noord Queensland
Tropisch Noord Queensland heeft geweldige aanpassingen die van jeugdherbergen voor de budget reiziger tot de vijf sterren toevluchten varieren, deze bieden veschillende diensten aan om hun gasten te verwennen en te verrukken. Wat dan ook uw voorkeur is er is een aanpassing voor u beschikbaar.
Er is altijd iets te doen in als u Noord-Queensland bezoekt. Het gebied staat bekend voor vele van Queensland toerisme bestemmingen. Het Great Barrier Reef is vermoedelijk het bekendste gebied met reizen die verkrijgbaar zijn van Townsville, Mission Beach, Cairns en Port Douglas. Toers zoals Sunlover Cruises, Compas Cruises, Quicksilver Cruises, de Haba Duiken en Calypso Charters allen hebben dag toers. Voor de duik liefhebber die verlengde reizen kiest, zijn er vele opties. Deep Sea Divers Den, Mike Balls Dive Adventures en Reef Encounter hebben toers van Cairns.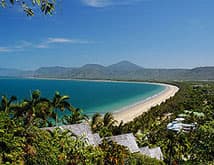 Voor de ecotoerist dit gebied is een paradijs. Gebieden zoals het Daintree Regenwoud, de Cape Tribulation, De Atherton Tableland en Cooktown wachten op u. Langs de kust zijn een aantal eilanden, vele met een toevlucht om u te verleiden. Zoals Magnetic Eiland, Dunk Eiland, Orpheus Eiland, Bedarra Eiland en Green Eiland. De stranden ter noorden van Cairns nodigt de vakantieganger uit om een van de populairste bestemmingen te delen. Toevluchten zoals Outrigger Beach Club, Kewarra Beach Resort, Breakfree Amphora Resort, De Sea Temple Resort & Spa, Ellis Beach Bungalows en Angsana Resort zijn Palm Cove's schikking om iedereen te verleiden.
In Cairns de opties zijn fantastisch. De vakantie schikkingen zijn in overvloed aanwezig. Jeugdherbergen, Motels, Hotels, Vakantie appartementen en flats samen met sommige van de best vakantie oorden in het land wachten op de vermoeide reiziger. Er zijn massas van reizen en activiteit beschikbaar. De Skyrail en Kuranda zijn een aanbeveling.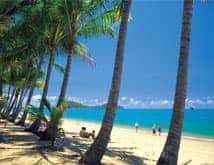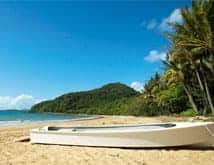 White Water Rafting op de Tully Rivier zal u dag opwinden evenals parachuut springen in Mission Beach. Bezoek de krokodil tentoostelling of probeer de fantastische restaurants en winkels. Er is een grote keus aan reis opties te vinden in het Noorden van Queensland in deze website inclusief vakantie verzorgingen en aanbiedingen, en vergeet ook niet de mooie Port Douglas schikkingen. Indien u in Australië bent kunt u ons op onze freecall nummer 1800 815 378 bellen of u kunt ons van overal emailen om uw volgende vakantie te organizeren.