Cooktown, Cape York
Het begin punt naar het schiereiland van Cape York, een van de werelds laatste gebieden dat nog niet onwikkeld is, is Cooktown, zo genoemd door Kapitein Cook. De kaap begint in Cooktown, dit is makkelijk bereikbaar met een auto, bus of vliegtuig van Cairns.
Cooktown, ongetwijfeld de meest historische stad van Australië, zit bij de Endeavour Rivier tussen het binnenland en de zee. De meeste plaatsen van belang kunnen tijdens een wandeling in de stad bezichtigd worden, deze zullen lang in uw herinnering blijven door hun geschiedenis en onbeschadigde schoonheid. Het Bicentennial Park is de plaats voor de jaarlijkse uitvoering van wanneer Kapitein Cooks voor het eerst naar deze plaast kwam, dit is tijdens de Discovery Festival die elk jaar wordt gehouden op het lange weekeinde in juni. Cook bracht bijna 7 weken in Cooktown door om zijn schip, de Endeavour, te herstellend, deze had veel schade opgelopen door het afgelegen rif.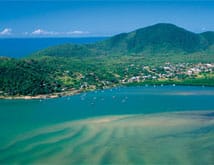 Vissen is hier een manier van leven en mensen komen hier naartoe uit de hele wereld om de zwarte marlijn en de zeilvis te vangen. Er zijn vele wandel paden rond Cooktown en een pad leidt u naar de Grassy Hill, een populaire plek wegens zijn 360 graden panorama uitzicht. De accommodaties reiken uit van het kamperen en backpackers naar de vakantie flats en toevluchten.
Een kustweg (berijdbaar alleen met een 4WD) verbindt Cape Tribulation met Cooktown, dit is een prachtige route voor alle adventuriers. De Bloomfield River Falls zijn enkel ter noorden van Cape Tribulation. Er zijn kampeer plaatsen evenals huisjes bij Bloomfield Cabins & Camping. Nationaal parken met hun watervallen, kreken en het platypus waarnemingen maken allen deel uit in dit prachtige gebied van Queensland. Waar anders dan Queensland kunt u zich op het noordelijkste uiteinde van Austalië bevinden, zeil op de zuivere wateren van de Torres Straight, ontdek ondergrondse lava buizen en Aboriginal rots schilderingen.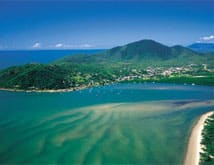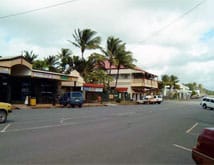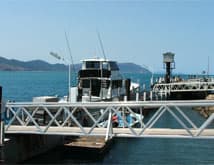 Vogels en andere dieren zijn in overvloed hier in het moerasland en de regenwouden van Cape York. De landschappen zijn onbehouwen en spectaculair. De Gulf Savannah - het binnenland bij de zee wordt bepaald door de natuurlijke en unieke geschiedenis. Het laatste onberoerd gebied van Australië met open bossen, savannah moeraslanded, vulkanische landformen en koele zoetwater kloven.
Als u meer information nodig heeft, dan kunt u Andrea bereiken via email: [email protected] of per telefoon op: +61 7 4128 6607.