Townsville
Townsville is de grootste stad in het verre Noord-Queensland. Gevestigd ongeveer vier uur zuidelijk rijden van Cairns, Townsville huisd de Cowboys NRL team, de Koninklijke Australische Luchtmacht en het Australische Leger regiment. Het klokkenspel van James Cook University maakt Townsville een kosmopolitische stad. Enkel van de kust zijn de toeristen meccas, Magnetic Eiland en het Great Barrier Reef. De accommodaties van Townsville reikt van backpacker en budget door tot de luxe toevluchtsoorden en heeft een groot variatie van hotels, flats en motels. De wijde keus van accommodaties zullen ervoor zorgen dat uw vakantie in Townsville een van de beste is.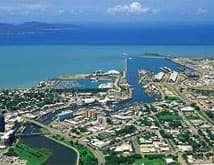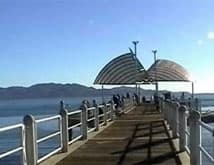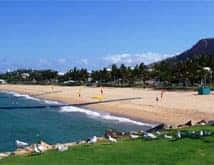 De vakantie flats en de toevluchtsoorden verspreiden zich langs de kust. Uitstapjes en toeren naar het Great Barrier Reef en de eilanden vertrekken dagelijks. De Casino wacht voor die die de neiging hebben. Een aantal van de populairste accommodaties in het gebied van Townsville zijn de Seagulls resort, Quest Appartementen, Beach House Motel en Townsville Plaza Hotel.
Uw vakantie in Townsville zal overgetelijk zijn door de merkwaardige accommodaties, de mooie stranden en Magnetic Eiland. Townsville is de plaats om met een watervliegtuig naar het sensationele Orpheus eiland te vliegen. Blijf een paar nachten in absolute luxe en wordt verleid met een van de fijnste maaltijden in Australië. Townsville heeft een fantastische Queensland vakantie voor iedere family.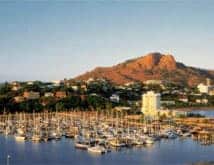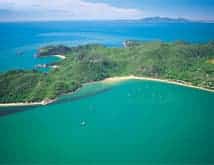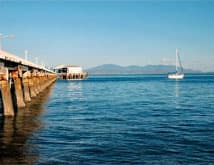 Doe een dagreis naar Tully Gorge en voor de avonturier ervaar het White Water Rafting. Ontdek het onderwaterleven bij Reef HQ, het werelds beste rif ervaring met meer dan 100 verscheidene koralen en 200 soorten vissen. Boek een dagreis naar het Magnetic Eiland waar u kunt zwemmen, snorkelen, duiken en vissen. Het gebied dat Townsville omringt is een prachtig regenwoud, waar u kunt vissen in kleine kreken en rivieren, wandelen en zwemmen in glasheldere waters.
Vele verzorgingen en aanbiedingen zijn beschikbaar in dit website. Aarzelt u niet om ons op te bellen als u in Australië bent, ons freecall nummer 1800 815 378 of emailt u ons uw vraag die u heeft over Townsville.
Als u meer information nodig heeft, dan kunt u Andrea bereiken via email: [email protected] of per telefoon op: +61 7 4128 6607.