Toowoomba
Toowoomba ligt hoog in de heuvels ter westen van Brisbane en staat bekend voor zijn boom belijnde straten en zijn spectaculaire bloementuinen, koelere zomer dagen en mooie vallei uitzichten. Toowoomba is Queenslands Tuin Stad. Toowoomba kan bereikt worden per auto, bus of vliegtuig. Het is iets meer dan een uur rijden van Ipswitch.
Toowoomba en het zuid-westelijk gebied hebben een uniek klimaat en is een gebied met vele tegenstellingen, met graniete rotsen, watervallen, wijnmakerijen en landschappen. Inclusief een variatie van intensieve landbouw met boomgaarden, viticulture en wijde oogst hectaren. Het gebied dat de steden van Stanthorp en Tenterfield omringt staat bekend als de Granite Belt (graniet riem) en de landschappen zijn spectaculair. Dit is één van de beste wijn gebieden in Queensland en een weekend hier kan gevuld worden met fantastische ervaringen rond de wijngaarden, de wijn en groenten proeven. Dit gebied is ook populair voor zijn Kerstmis in juli festival. Queenslanders zijn altijd aan hogere temperaturen gewend, en hierdoor kunnen zij een kouder klimaat met al de kerstmis aktiviteiten ervaren. Zoals de geweldige restaurants en b & b's, openhaard en af en toe een sneeuwval om de kinderen te verrukken.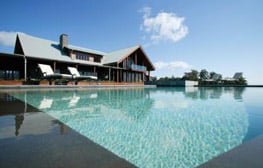 Uw reis naar Toowoomba en de Granite Belt zal door het kiezen van uw vakantieverblijf van de pagina's en aanbiedingen in deze website versterkt worden.
Als u meer information nodig heeft, dan kunt u Andrea bereiken via email: [email protected] of per telefoon op: +61 7 4128 6607.