Airlie Beach
Airlie Beach is het centrum van de Whitsundays. Slechts in Queensland vindt u een groot assortiment aan vakantie producten die zich allen in een gebied bevinden. Airlie Beach is niet alleen bekend voor zijn fantastisch landschap en klimaat maar er is ook geen ander met de reusachtige variatie van vakantie activiteiten die voor iedere leeftijd, smaak en budget aanpast. Deze zijn de goed georganiseerde water georiënteerde activiteiten, zeilen, duiken, snorkelen, boot charteren, eiland hoppen, nacht clubs, restaurants en veel meer.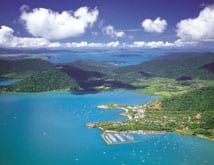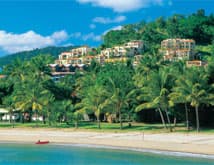 Airlie Beach huisd een wijde variatie van vakantie accommodaties; strand flats, hotels, motels, backpackers en de toevluchtsoorden, allen zijn dichtbij winkels, restaurants, haven en dergelijke. Een aantal van de populairste Airlie Beach accommodaties zijn Whitsunday Wanderers Resort, Club Crocodile Resort - Airlie Beach, Coral Sea Resort, Whitsunday Vista Resort, Portside Resort, Whitsunday Terraces Resort and Watersedge Resort.
Airlie Beach is het af hop punt voor de Whitsunday Eilanden, de Whitsunday jacht industrie en de stad is een mekka voor toeristen die in het gebied wensen te zeilen of duiken. Vele dagtrips, verlengde zeil toers, boot charters en duik reizen zijn beschikbaar. Enkele organisaties zijn Prosail, Fantasea Cruises en Ozsail. Boot charter organisaties werken van Airlie Beach en Shute Harbour zoals Whitsunday rent a yacht, Whitsunday Private Yacht Charters, Queensland Yacht Charters and Charter Yachts Australia.
Uw Airlie Beach vakantie zal door de mooie accommodaties in uw herinnering blijven. De fantastische vakantie toevluchtsoorden, zeilen en duiken samen met fijne restaurants, winkels, zonnen op het strand of rond het zwembad, of in het algemeen ontspannen op een balkon van uw vakantieverblijf met het prachtige uitzicht over het Airlie Beach gebied zult u niet vergeten.
Er zijn vele vakantie aanbiedingen en verzorgingen beschikbaar in dit website. Aarzelt u niet om ons kantoor met dit Freecall nummer 1800 815 378 te bellen, of stuurt u een email met vragen over Airlie Beach en de eilanden.
Als u meer information nodig heeft, dan kunt u Andrea bereiken via email: [email protected] of per telefoon op: +61 7 4128 6607.