Daydream Eiland
Daydream Eiland Resort & Spa is een tropisch paradijs en zit in het Great Barrier Reef Marine Park, 5 kilometers van het vasteland. Het is het perfecte eiland verblijf voor families en paren met inbegrip van dagtrippers. Enkel een kilometer lang en 500 meter breed, Daydream is altijd populair met zijn gemakkelijke toegang van Hamilton Eiland en de luchthaven van Proserpine op de Whitsunday kust.
In 2001 werd de nieuwe Daydream Eiland toevluchtsoord onthuld bij het einde van een twee jarige $40 miljoen ontwikkelings programma, een introductie van een nieuw niveau van accommodatie en verjongings spa. Daydream Rejuvenation Spa is ontworpen om het lichaam en de ziel te vervullen, geniet van de omgeving die u vernieuwd, hersteld en nieuwe kracht geven.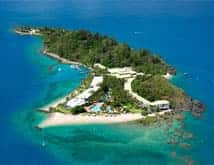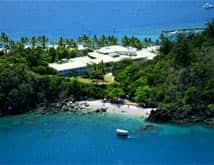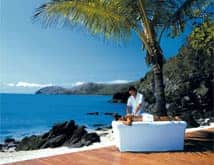 Alle drie stranden van Daydream worden omring door levende koralen en de kleurrijke vissen, deze maken het een perfect onderwater speelplaats om te snorkelen. Het centrum en hoogste punt van het eiland is een klein maar dichte wildernis van tropische planten die door papegaaien en kleine zonne vogels wordt gewoond. Loop door de in de schaduw liggende gangpaden die representatieflijk zijn van de natuurlijke schoonheid van het eiland.
Van het eiland kunt u zo veel exploreren als u wilt, met reizen naar het Great Barrier Reef, en andere Whitsunday eilanden die regelmatig vertrekken.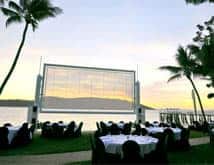 Er is snorkelen langs stranden die omringt zijn van koralen, en water-sport met inbegrip van zeilen, jet ski, parazeilen, koraal het bekijken in glas gebaseerde boten, en rif vissen. Speel tennis, volleyball, badminton of croquet. Leer te duiken of probeer zee kayaken. Er is nu ook mini golf op het eiland bij het spectaculaire putt putt golf cursus deze moet gezien worden te geloven.
Wat ook uw behoeften zijn, Daydream Eiland Resort & Spa's personeel zijn klaar om u te verzorgen.
Als u meer information nodig heeft, dan kunt u Andrea bereiken via email: [email protected] of per telefoon op: +61 7 4128 6607.