Mackay
Mackay, de grootste regionale stad in het gebied, combineert landgastvrijheid met een evenwicht aan alle attracties en commerciëe faciliteiten die van een van de grootste regionale steden in de staat worden verwacht. Overvloedig in hun geschiedenis de stad die bewoont werd in 1862 door John Mackay, deze ontdekte hoe vruchtbaar de rivier en achterland was. Sindsdien is de stad ontwikkeld tot de suiker hoofdstad van Australië en de bezoekers worden aangemoedigd om dagtochten door een suikermolen of een werkende suikerriet landbouwbedrijf te nemen.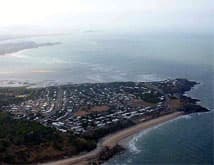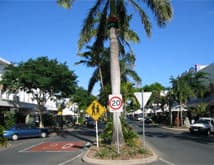 Vele stranden omringen Mackay. De noordelijke stranden zijn slechts 10 tot 15 minuten van de stad. Een bezoek aan Eimeo Pacific Hotel is een aanrading, deze pub is populair bij bewoners en toeristen die genieten van zijn "bar lunch met miljoen dollar uitzicht" in de bier tuin, dit is te danken aan de lokatie op de klippen die over de Koraal zee, Eimeo Beach en de Sunset Bay overziet. Er zijn vele nachtclubs in het centrum van de stad, hierdoor is het nachtleven heel erg levendig. Er zijn ook een overvloed aan koffie clubs, hotels, brasseries en bierhuizen. Wat u dan ook voor kiest er wordt voor alle leeftijdsgroepen en budgets verzorgd.
Eungella en de Pioneer Valley, behalve dat zij een van de rijkste groeiende gebieden van het suikerriet in Australië zijn, zijn zij ook een van de schilderachtigste valleien in Australië. Langs de weg genoemd 'de Natuurlijke Manier' naar Eungella, zult u door vele gemeenten en dorpen reizen. Iedere van deze steden heeft hun eigen unieke charme en atmosfeer en is het waard om hier te stoppen en alles op te nemen. Onderweg naar de top van Eungella is het uitzicht verbazend wanneer u over de Pioneer Valley kijkt.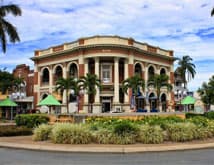 Er is geen betere manier om de natuurlijke schoonheid van dit gebied te zien en ervaren, dan boven op de Eungella Range en van de vele langs de kant van de weg liggende uitzichten van het Nationale Park. Ter zuiden van Mackay, ongeveer 37 kilometers, ligt Sarina genestelt in de voorgebergte van de Connors Range. Een steunpunt voor de steenkool, suiker, de zuivel en weiden industrieën, er is een overvloed van aanpassingen, van caravanparken tot motels.
Buiten Sarina zijn vele onbedorven stranden, die beschutte zwemmen, goed vissen en zweepende uitzichten van de omringende kustlijn bieden, met inbegrip van Coral Point bij Campwin Beach and Perpetua Point, Sarina Beach.
Als u meer information nodig heeft, dan kunt u Andrea bereiken via email: [email protected] of per telefoon op: +61 7 4128 6607.