Liveaboard Dive Trips - Deep Sea Divers Den
» Day Reef Trips » PADI Dive Courses
Deep Sea Divers Den organizes Liveaboard Dive Trips with their luxury catamaran from Cairns to the magnificent Outer Barrier Reef. The vessel caters for Snorkellers, Certified and Introductory divers.
The vessel is a 36 metre catamaran with 3 decks. This vessel has 4 double suites, 18 twin share and 1 quad share cabin, with a capacity to have 48 visitors staying the night in comfort and luxury. All the rooms have an en-suite, air-conditioning and a TV. On the wheelhouse deck is a large lounge area with a bar and the main deck has a large dining room.
INTRODUCTORY DIVING
If you have never been diving, why not try an introductory dive, they offer a 2 Day / 1 Night trip with 5 introductory dives over the course of the 2 days. You do not need to have experience, all that is needed is that you can swim and you will have to fill out a medical questionnaire.
DIVE LOCATIONS
They have 14 permanent locations on the Outer Barrier Reef, these include Norman and Saxon reefs. The reason for the permanent sites is to ensure minimal damage to the coral formations.
At the dive sites you will see many beautiful tropical fish, including the very popular large Maori Wrasse, and amazing coral reefs.
TRIP OPTIONS
All visitors have the liveaboard option to stay; 2 days / 1 night, 3 days / 2 nights, 4 days / 3 nights or 5, 6 or 7 days.
You have the option to snorkel during your stay or include introductory dives to your trip.
Certified divers have the option to do the 2 Days / 1 Night trip that includes 7 dives or stay up to 7 days and enjoy 27 dives over the duration of the stay.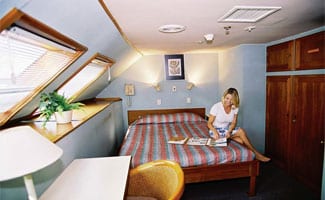 TRIP DETAILS
Check in - 7:45am, Daily
Returns - 4.30pm, Daily
INCLUSIONS IN THE COST:
Dive Equipment
Air Fills
Bed Linen
Fresh Showers
4 cell torch-80 lumens hire for night dive

All Meals
Accommodation
Fresh water / Tea & Coffee
City Accommodation Transfers
2 locations per day on the Outer Barrier Reef, weather permitting
OPTIONAL EXTRAS

Northern Beaches transfers $20
Enriched Air (Nitrox) @ 32% - $10 per fill
Enriched Air (Nitrox) Course $200
Bar Purchases
LED Torch-220 lumens hire
Camera hire / purchase
Guided Dive

WHAT TO BRING

Hat
towel
swimsuit
sunscreen and sunglasses
Certified divers please bring C-cards, log books.
CRUISE COSTING [2014-2015]:
Liveaboard Introductory Dive Trip
Stateroom
Twin/Double
4 Share
2 Day 1 Night (incl 5 introductory dives)
$680
$660
$630
Extra Nights are also available (please contact us)
Liveaboard Dive
2 Days 1 Night
$540
$520
$490
3 Days 2 Nights
$740
$700
$640
4 Days 3 Nights
$940
$880
$790
5 Days 4 Nights
$1,140
$1,060
$940
6 Days 5 Nights
$1,340
$1,240
$1,090
7 Days 6 Nights
$1,540
$1,420
$1,240
Liveaboard Snorkel
2 Days 1 Night
$470
$450
$420
3 Days 2 Nights
$620
$580
$520
4 Days 3 Nights
$770
$710
$620
5 Days 4 Nights
$920
$840
$720
6 Days 5 Nights
$1,070
$970
$820
7 Days 6 Nights
$1,220
$1,100
$920
EXTRAS: To be paid on board
- EMC, Port Authority & Fuel at $20.00 per person per day
(includes: EMC $3.50, Fuel Levy $10.00, Port and Administration Charges $6.50)
Rates valid till 31 March 2015
NOT PROVIDED:
Dive / Snorkel Insurance
CHILD POLICIES:
- Child rate for 3 - 11 yrs
- Children must be accompanied by a parent or guardian
- Minimum age for Introductory dives - 12 years
- Certified divers - age 10 + 11 years, must dive with parent, guardian or private guide
- Certified divers - age 12 - 14 years, must dive with parent, guardian or shared guide
ITINERARIES FOR CERTIFIED DIVE TRIPS:
2 Days / 1 Night
7 dives or unlimited snorkelling
3 Days / 2 Nights
11 dives or unlimited snorkelling

DAY ONE - 4 dives

7.45am pick up from your city accommodation
9.00am Board our fast modern transfer boat for 90 minute transfer to Outer Barrier Reef
Equipment selection
2 dives before transferring to OceanQuest at 2.30pm
2.30pm transfer to OceanQuest
afternoon dive and night dive
Lunch, dinner and accommodation included

DAY TWO - 3 pleasure dives

Breakfast, and lunch are included
3.00pm Depart Outer Barrier Reef
Return to your accommodation approx. 5pm


DAY ONE - 4 dives

7.45am pick up from your city accommodation
9.00am Board our fast modern transfer boat for 90 minute transfer to Outer Barrier Reef
Equipment selection
2 dives and lunch before transferring to OceanQuest
2.30pm transfer to OceanQuest
Afternoon dive and night dive
Lunch, dinner and accommodation included

DAY TWO - 4 dives

Three day dives, One night dive
Breakfast, lunch, dinner and accommodation included

DAY THREE - 3 pleasure dives

Breakfast, and lunch are included
3.00pm Depart Outer Barrier Reef
Return to your accommodation approx. 5pm

4 Days / 3 Nights
15 dives or unlimited snorkelling
5 Days / 4 Nights
19 dives or unlimited snorkelling

DAY ONE - 4 dives

7.45am pick up from your city accommodation
9.00am Board our fast modern transfer boat for 90 minute transfer to Outer Barrier Reef
Equipment selection
2 dives and lunch before transferring to OceanQuest
2.30pm transfer to OceanQuest
Afternoon dive and night dive
Lunch, dinner and accommodation included

DAY TWO - 4 dives

Three day dives, One night dive
Breakfast, lunch, dinner and accommodation included

DAY THREE - 4 dives

Three day dives, One night dive
Breakfast, lunch, dinner and accommodation included

DAY FOUR - 3 pleasure dives

Breakfast, and lunch are included
3.00pm Depart Outer Barrier Reef
Return to your accommodation approx. 5pm

DAY 1 - 4 dives

7.45am pick up from your city accommodation
9.00am Board our fast modern transfer boat for 90 minute transfer to Outer Barrier Reef
Equipment selection
2 dives and lunch before transferring to OceanQuest
2.30pm transfer to OceanQuest
Afternoon dive and night dive
Lunch, dinner and accommodation included

DAY 2 - 4 dives

Three day dives, One night dive
Breakfast, lunch, dinner and accommodation included

DAY 3 - 4 dives

Three day dives, One night dive
Breakfast, lunch, dinner and accommodation included

DAY 4 - 4 dives

Three day dives, One night dive
Breakfast, lunch, dinner and accommodation included

DAY 5 - 3 pleasure dives

Breakfast, and lunch are included
3.00pm Depart Outer Barrier Reef
Return to your accommodation approximately 5pm

6 Days / 5 Nights
23 dives or unlimited snorkelling
7 Days / 6 Nights
27 dives or unlimited snorkelling

Contact us for itinerary

Contact us for itinerary
These itineraries are meant as a guide only. All times and sequences are subject to change, indicated number of dives is a maximum (may be subject to weather/safety conditions)