North Star Cruises

Archipelago Adventure
Cairns – Louisiade Archipelago – Cairns
Join a very select group of adventurers and discover the rarely visited Louisiade Archipelago. Includes return flights ex Cairns.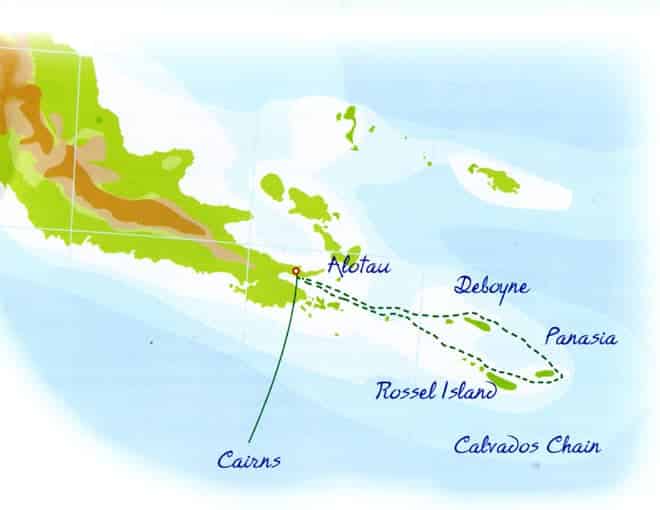 Day One:

Take advantage of an early morning transfer from your hotel to Cairns International Airport. After clearing customs you will be welcomed aboard their comfortable charter aircraft for the short flight to Port Moresby. At Moresby they attend to immigration formalities before continuing onto Alotau.
On arrival in Alotau you will find the magnificent True North and their famed crew - ready to begin your Archipelago Adventure! Enjoy a welcome aboard cocktail and a light snack as they head out into the South China Strait. In the late afternoon join the first of their 'shore parties' and explore the small but intriguing island of Samarai – once a trading centre with greater importance than Moresby!
Back onboard sample hors d'oeuvres in the alfresco bar before making your way to the ship's saloon – the chefs are sure to have prepared something extra special tonight, wagu beef would be a delight, the first of the many signature dining experiences.
Day Two:

Your first morning onboard finds the True North amidst the Conflict Group of Islands. These low lying islands typify the 'archipelago experience' – white sandy beaches fringed with palms, sparkling lagoons, very occasional traditional fishing boats and equally infrequent fishing huts – contrasting Papua New Guinea's larger and more populated islands. Enjoy an entire day devoted to fishing, diving, snorkelling and exploring!
In the afternoon the ship's helicopter will bring all into perspective - stunning scenic flights over picture perfect islands and lagoons decorated with shallow corals and graceful manta ray.
Day Three:

Deboyne Island was a Japanese seaplane base during World War II – but only for 5 days! The Japanese found that their new base was just a little too close to the allied planes based at Port Moresby and the base was quickly abandoned. The Japanese never returned to the island however several 'Zero' fighter planes ditched in the area during the Battle of the Coral Sea. One remains virtually intact in the shallow waters of Deboyne Lagoon and this morning our expedition boats will convey snorkelling teams to examine the wreck. Fishing, diving and sightseeing boats will also explore the lagoon and outer reef.
A visit to Panepompom Island provides opportunity to experience idyllic archipelago life. The 'locals' will welcome you on the beach, treat with some impromptu singing (and laughing) and then invite all to stroll amongst their huts. Their crew will also take opportunity to deliver appreciated resources to the local school before the expedition boats are away again.
Day Four:

The ship's helicopter will deliver a breathtaking orientation to the Calvados Chain especially distinctive Panasia and Duchateau Island. Here the islands are steep sided and 'Jurassic Like'. Fishing, diving and snorkelling will again be on the agenda or perhaps you would prefer a hike on exotic Panasia!
Enjoy a sumptuous lunch as they cruise to Duchateau. Then it's away again in the expedition boats – the now familiar routine of discovering pristine beach, stunning coral and abundant reef.
And something special this evening – join the crew under waving fronds for sunset drinks and classic island vista.
Day Five:

This morning they wake off Pana Wina Island — the largest island in the Calvados Chain. Most of the islands in the chain rise steeply from the sea and are either thickly forested or covered with grasslands. Many are surrounded by their own reef systems and lagoons and, in addition to the high islands there are also numerous low coral islets and reef - endless opportunity for exploration and discovery. Shallow coral gardens will entertain the snorkelers, outer reef areas will challenge the divers and the keen fishers will hopefully battle marauders from the deep! For a more relaxed start to the day - wander through Panabari Village and then indulge yourself with a spot of South Pacific beachcombing!
In the afternoon they will also visit Nimoa Island – here the island mission will impress. The five-sided church features murals of island life and all mission buildings are surrounded by well maintained paths and gardens filled with flowering plants. Edged by jungle-covered mountains, postcard beaches and crystal clear waters – an island paradise indeed!
Day Six:

The divers onboard will be up early for a cruise highlight – the aptly named "Fish City is home to large numbers of parrot fish, batfish, trevally, coral trout, tuna, snapper and mackerel!
Nearby Rossel Island is a much larger island – nearly 300 square kilometres! It is also very mountainous with Mt Rossel reaching 800 metres – the helicopter will be handy! From an unassailable vantage scenic flyers will encounter lush jungle and, fringing reefs 12 kilometres to the east and 40 kilometres to the west! No shortage of ground to explore here either!
In the afternoon they visit beautiful Damenu Bay. It's just a short walk up the hill to the mission and school. Did you know that PNG kids don't start primary school until grade 4 and, that's when they are first taught to speak English! The mission's commanding views of Damenu Bay are not to be missed!
Day Seven:

Misima is the most heavily populated island in the archipelago. A gold and silver mine was operated on the island from 1990 until it closed in 2004. The shore parties will visit the mine site and township of Bwagaoia whilst helicopter flights will provide a glimpse on an enviable lifestyle on the other side of the island – waterfalls, gardens and secluded beach-side villages.
Then they 've saved the best till last – wait till you see Ebora! The master will reverse the True North stern to beach in an amazing turquoise lagoon built to size. You will be impressed by the steep sided jungle that surrounds. The nearby dive site is big as well – a vertical wall with the best vis yet! They might have started with wagu but they 'll finish with yahoo!
Day Eight:

This morning they are alongside in Alotau. Transfer to their charter plane and return to Cairns via Moresby. They are already looking forward to welcoming you back onboard – the next time you GO WILD IN STYLE!
This itinerary is provided as example only – prevailing conditions and local arrangements may cause variation. Helicopter flights can be purchased as a package or individually.