Kewarra Beach Resort & Spa - 5 Star Luxury Beachfront - Honeymoon, Wedding - Day Spa - Restaurant
Property Information:
Kewarra St, Kewarra Beach
Kewarra Beach Resort & Spa at Palm Cove is truly spectaclular, offering a 5 star resort located on a beach sheltered by the Great Barrier Reef in among a tropical rainforest.
The beautiful botanical gardens, and forests meandering amongst streams, lagoons and rock pools provide homes for native birds, butterflies, frogs, wallabies, fish and many other Australian wildlife.
Two freeform swimming pools provide a wonderful place to relax and unwind at the end of a hard day touring.
Paperbark Restaurant incorporates many tropical flavours to put that extra touch on your tropical holiday.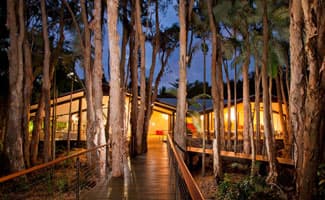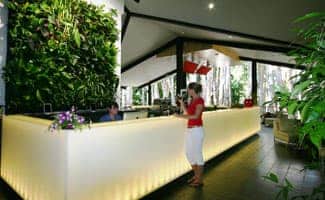 Resort Facilities
Two free form swimming pools set in rainforest locations
The gardens flow right onto their private beach.
Yoga, or kayaking are available from the beach
Full Tour booking service
Resort shopping boutique
Championship Golf courses are at your doorstep.
Free wireless internet across the whole property including right on the beach front.
Guest Facilities include
Guest Laundry
Secretarial service along with photocopying fax and meeting rooms
Twenty-four hour reception and international currency exchange
Room Service
Childminding arranged by request through a reputable Nanny Service.
Wheelchair accessible rooms are available.
RESTAURANT & BAR
Paperbark restaurant
Paperbark restaurant is one of the leading restaurants in the region. Seafood is a speciality. The atmoshere is tropical and the open sided structure has you almost dining in the middle of the rainforest.
Their kitchens are able to cater for any special dietary requirements.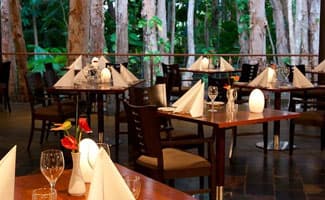 Nautilus Beach Cafe & Bar
Right on the beachfront, you will find the Nautilus cafe which provides the setting for an early morning coffee, a light lunch or an evening cocktail.
Forest Lounge
Forest lounge provides a quiet reading area containing many books about their regions colourful heritage. Local and National newspapers, board games and complimentary internet access are available here.
WEDDINGS & HONEYMOONS
Exchanging your vows on a beautiful beach, with its endless source of natural beauty and tranquillity, breathtaking sunrises and romantic sunsets, Kewarra Beach Resort & Spa provides the ideal location for a romantic wedding ceremony.
Their gardens and beachfront locations offer the perfect setting for your wedding celebration ensuring your exclusivity and seclusion. Their diverse choice of wedding venues at Kewarra Beach Resort & Spa makes the premier wedding destination in Tropical Australia.
Absolute beachfront boasting stunning views of the Coral Sea makes their deck the ideal location for an unforgettable and romantic wedding. The Nautilus Deck is one of their most unique and private outdoor locations and is a great venue to host a small intimate wedding. The thatched roof deck fringed by palm trees provides a relaxed atmosphere for you and your guests to soak up those elegant tropical surroundings.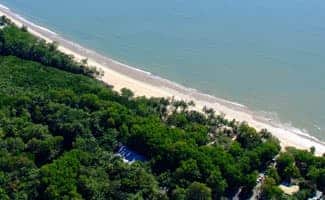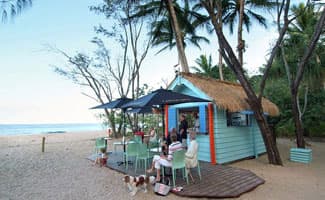 Accommodation Information:
PANDANUS DELUXE BUNGALOWS
Pandanus Deluxe Bungalows feature full airconditoning, king size beds, and private balconies. The rainforest setting makes it the ideal place to stay at Kewarra Beach Resort & Spa.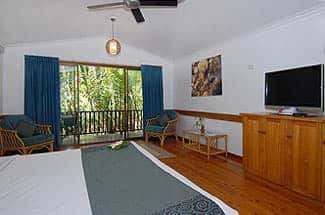 The private balconies are truly wonderful; the perfect spot to unwind and listen to the chorus of local birdlife, so if it's nature you're after, look no further than the Pandanus bungalows, each cleverly designed to blend into the natural rainforest.
PIPI BEACHFRONT BUNGALOWS
Pipi Beachfront Bungalows with their beachfront locations are fantastic for a honeymoon or romantic sojourn. They have king size beds and superb polished flooring.Each unit has a flat screen TV, ceiling fans and air conditioning.
BAUHINIA SUITES
Bauhinia Suites feature an indoor outdoor approach with wide patios with modern outdoor furniture. They come in either one or two bedroom configurations and are modern in every way.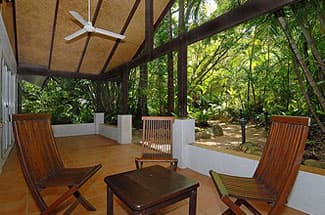 Location Information:
LOCATION
Located 20 mins transfer north of Cairns Airport — Cairns pristine northern beaches.
Set between tropical rainforest and a sea sheltered by the Great Barrier Reef, Kewarra offers you the space to relax, and room to move, minutes from Palm Cove, Cairns, Shopping Centres and Attractions. Enjoy the expansive gardens and tropical beauty which truly reflects their heritage, Kewarra offers you the luxury, service and facilities of an exclusive nature lodge while you explore the Great Barrier Reef, rainforest and the outback
On the North Eastern Coast of Australia they are very privileged to be surrounded by pristine rainforest and incomparable marine wonders. Within easy reach of Cairns, the Daintree Forest and the Atherton Tablelands their exclusive lodge places you in the heart of Far North Queensland. Once you are there their Adventure Desk can ensure you have the very best personal experience with their complimentary booking service for all your tours and adventures.
The resort is approximatly 15 kilometers to the north of the terminal building along the Cook Highway.