Palm Cove Activities & Attractions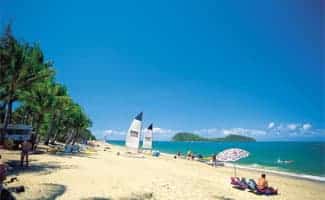 Palm Cove is close to all the best holiday activitiesand attractions in Far North Queensland. Everyone wants to stay in a holiday destination where there are plenty of attraction and activities so that the whole family is kept occupied for the duration of their stay. Palm Cove is a seaside resort town and has the best beach in the region. Most of the accommodation in town can be found right along the beachfront and it provides the ideal destination for family fun. During the wet season, swimmers are protected by stinger nets.
Another favourite local activity is game of golf. Palm Meadows is the local course. There are two more great resort courses at nearby Port Douglas, and Cairns to the south, has several excellent layouts. The magnificent Great Barrier Reef lies just offshore and this means fantastic fishing and snorkelling and scuba diving activities.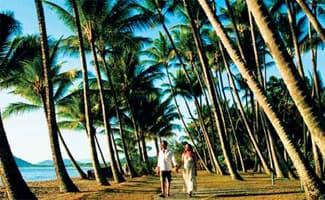 Local tours and cruises to the reef and excellent fishing charters are available from both Cairns and Port Douglas. Both are regarded as world leaders in both sport's fishing and big game fishing with the outer reef dropoffs being home to the giant Black Marlin. Diving expeditions are available for a day or an extended trip to some of the worlds best dive sites. Port Douglas diving provides the opportunity to visit places like the Cod Hole and the Ribbon Reefs and Cairns Diving can take you on a day trip or deep into the Coral Sea to dive on remote and pristine coral reef systems.
Tours to the Atherton tableland or the world heritage listed Daintree rainforest will pick you up from your Palm Cove family accommodation and take you to visit these special places.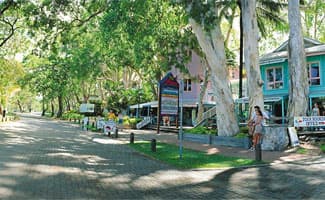 The town of Kuranda which is located on the Atherton table land can also be visited on one of the Skyrails gondola rides which is located only a short distance to the south of Palm Cove. Wildlife parks like Hartleys Crocodile exhibition are also located nearby. The Mossman Gorge is a fantastic destination for a family picnic and swimming in the crystal clear waters of this beautiful mountain river is most refreshing.
Your Palm Cove holiday can be filled with as many activities as you could possibly want like dining in the local restaurant and cafes or you can simply relax by the pool at you Palm Cove accommodation.