Rainbow Beach Apartments - Units - Town House - Condominium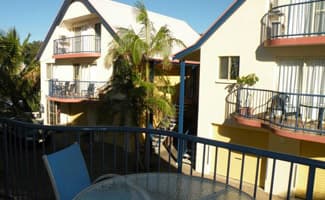 Rainbow Beach has a huge range of apartment style holiday accommodation and the supply grows every year with the completion of new apartment style holiday resorts. In Australia, the holiday apartment supplies the great bulk of local apartment style accommodation in most of the coastal holiday destinations. This is because this type of development is popular with developers as they can sell off the apartments to investors and then sell the management rights off to an operator whose job it is to manage and book the apartments on behalf of the investors. Throughout Queensland, thousands of this type of project have been built and are now the largest part of the holiday accommodation industry. Rainbow Beach has been in the thick of this type of activity over the last decade or so and now has a number of these apartment style resorts offering great holiday accommodation to families with kids.
Rainbow Getaway resort is one of these newer apartment style resorts and offers several different configurations. One, two and three bedroom apartments are available. It is located right in the middle of town and only walking distance from the fantastic beach, shopping, restaurants and cafes. Rainbow Shores resort also offers fully self contained self catering apartments that are located right on the beachfront. This resort also offers many other holiday activities to help entertain its guests.
Rainbow Beach apartments will provide you with fantastic holiday accommodation.
Rainbow Beach Apartment Options: