Ashmore Palms Holiday Village - 3 Star plus - Cabin Style Accommodation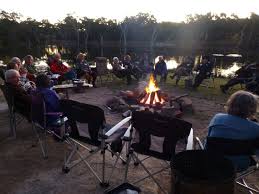 Property Information:
71 Hinde Street, Ashmore, 4214
Uniquely set on 14.5 acres of lush, tropically landscaped gardens, Ashmore Palms Holiday Village provides a fun, yet relaxed, holiday setting for families, couples and groups, travelling to Australia's Gold Coast. The Award-winning Village offers guests a range of quality self-contained holiday cabins, extensive family-oriented facilities, unique features and warm hospitality.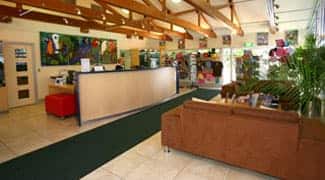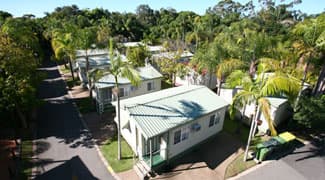 The Village boasts extensive facilities including a large swimming lagoon with a waterfall, mushroom lagoon with a shallow swim area, two playgrounds, barbecues, picnic areas, 7-day holiday reception, convenience store, tour desk, full size tennis court, internet booth, guest laundries, garden walkways, feature gardens and Australia's largest collection of South American Macaw Parrots.
The lush surrounds, bird aviaries and garden walkways of Ashmore Palms provide for a unique backdrop for the cabins and a relaxed holiday setting. The gardens are part of what sets Ashmore Palms apart from the high rise accommodation on the Gold Coast.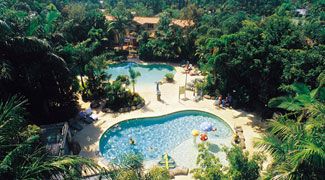 Ashmore Palms Holiday Village is set on 14.5 acres, complete with lush gardens, internal roadways, holiday cabins and extensive facilities. The facilities, designed with "family friendly fun" in mind, include:
Paradise Lagoon (swimming pool), with a feature waterfall
The Mushroom Lagoon (swimming pool), with 3 mushroom fountains, a water spurting worm and friendly crocodile!
Macca's Madhouse playground, complete with 2 slides, ramps and climbing equipment
7-day Holiday Reception and Tour Desk
Internet Booth
Barbecue and picnic areas
Full size, hard surface tennis court (court hire is free for holiday and interim guests)
The General Store, with groceries, bread, milk, ice creams, sweets, soft drinks, newspapers, magazines, souvenirs, gift lines, film and other general groceries
3 guest laundries, complete with washing machines and dryers
Private driveway parking for one vehicle beside each cabin
Bird aviaries housing South American Macaws, Australian Native birds and other exotic parrots
Feature gardens and garden walkways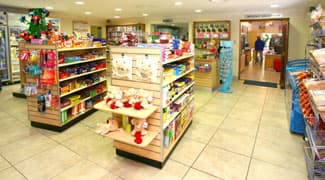 Services
Your holiday at Ashmore Palms can be as action-packed or as relaxed as you choose!
Upon arrival at the Village, you will receive a complimentary postcard, Holiday Fun Book for each child and an Activities Calendar detailing the week's activities. The best part is that all of the scheduled activities at Ashmore Palms are free!
Ashmore Palms runs a regular weekly program of kids' games, kids' craft, face painting and photos with the birds, photos with Macca Macaw (the Village's cuddly mascot) and "Morning Tea with the Macaws." On weekday mornings (excluding public holidays), guests can join the Birdkeeper to feed the Australian native birds.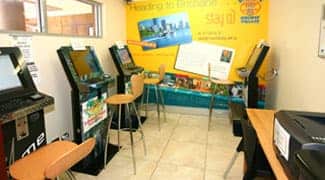 Ashmore Palms also runs a free shuttle service to Surfers Paradise and Pacific Fair Shopping Centre once per week, a weekly "shopping shuttle" to Harbour Town Shopping Centre (great for outlet shopping), and a night transfer to Surfers Paradise. These services are run on set days, once per week. Transfers times are detailed in Ashmore Palms' Activities Calendar, issued on arrival.
Free tennis court hire (for holiday and interim guests)
Free board game hire
Free linen hire for holiday guests (not included in some group tariffs)
Tennis racquet hire
Tour Desk ticketing service
Brochures and local area maps
DVD hire
Group breakfasts and linen hire
Accommodation Information:
The holiday accommodation available at Ashmore Palms ranges from the budget priced Melanesian Cabins up to the luxurious Rainforest Retreats. For your comfort and convenience, each style features full cooking facilities, air-conditioning, television, linen, up to 3 bedrooms and private driveway parking.
ACCOMMODATION OPTIONS

Melanesian Cabins
open plan, budget, sleeps 4
Holiday Villas
2 bedroom, budget, sleeps 4
Click Here for more info!
Click Here for more info!
Hibiscus Chalets
2 bedroom, budget, sleeps 4
Metro Cabins
2 bedroom, suits business traveller, sleeps 4
Click Here for more info!
Click Here for more info!
Palm Cottages
2 bedroom, middle of the range, sleeps 5
Budget Family Villas
3 bedroom, suits large family, sleeps 5
Click Here for more info!
Click Here for more info!
Cactus Cabanas
2 bedroom, carport, sleeps 5
Classic Family Villas
3 bedroom, suits large family, sleeps 6
Click Here for more info!
Click Here for more info!
Lorikeet Lodges
2 bedroom, ramp access, sleeps 5
Macaw Mansions
2 bedroom, luxury, 2 storeys, sleeps 6
Click Here for more info!
Click Here for more info!
Rainforest Retreats
2 bedrooms, top-of-the-range, sleeps 6
Click Here for more info!
Interim Cabins
Ashmore Palms also has a range of Interim Cabins, popular with couples and families visiting the Gold Coast for extended periods, on work transfers, building a house, study, relocating from interstate or overseas. The Interim Cabins are furnished, for your convenience.
Long Term Cabins
The Village has some Long Term Cabins available for stays of 6 weeks or longer. These cabins are basic and partly furnished.
Special Needs Accommodation
Ashmore Palms' Lorikeet Lodges have ramp access and are suitable for special needs guests, with the assistance of a family member or carer. These cabins are particularly popular with those guests who have infants in a stroller or pram.
One shower chair is available for hire, subject to availability.