Wings II & III - Wings Diving Adventures - WSA
2 Days - 2 Nights Diving Adventure
» Departs 12:00pm Mon, Wed, Fri + Sun
Wings dive cats offer a combination of scuba diving, sailing and speed. Stable level sailing allows comfortable movement around decks or in the fully air-conditioned spacious saloons and accommodation. Fun knowledgeable dive instructors make your first scuba experience or certified dive relaxed with easy beach entries and safe reef diving conditions. PC systems, movie projector and large screens provide entertaining slide shows after the 'famous Aussie BBQ' under the stars. Experience the beauty of the underwater world and some seriously fast fun.
| | |
| --- | --- |
| | |
| Wings 2 Layout | Wings 3 Layout |
SCUBA Diving Available On Board
Wings endeavours to stop at the best dive destinations around the Whitsunday Islands and The Great Barrier Reef Marine Park. She is fully equipped for Scuba Diving with 2 on board dive instructors to take beginners or certified divers. All dive gear is included in the dive prices and professional dive photos are available to buy on disk.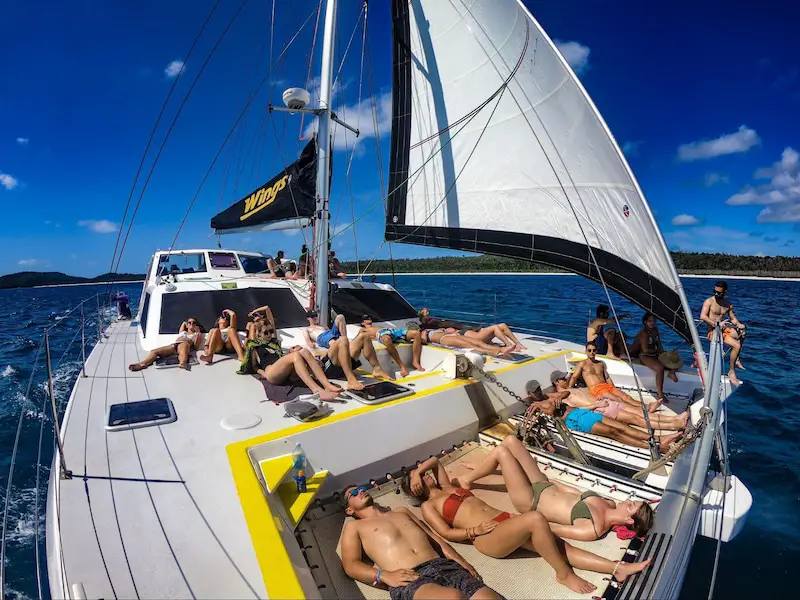 Diving Prices
Wings 2 + 3 have dive packages.
1 dive  - $70.00
2 dives - $110.00
3 dives - $150.00 with a free T-Shirt
4 dives - $200.00 with a free T-Shirt
Dive Photos DVD - $30
Amazing Destinations
Your skipper and enthusiastic crew will show you the best of the Whitsundays while you make the most of the huge deck space.  You can lounge on the nets and take in the 360 degree views or find the perfect sun baking possie on deck as you sail towards each new island paradise.  There are endless opportunities for adventuring ashore, with rainforest walks, beachcombing or playing football on Whitehaven Beach. Wings is the ultimate vessel for diving in the Whitsundays.
It has two liveaboard dive instructors who know the best places to take you diving. If you're a first time scuba diver, they can make your experience as relaxed and easy as possible by starting at shallow beach entries. Once you feel confident, you can dive your way through colourful coral reefs teeming with life guided by your instructor. Many first divers end up addicted to the underworld sightseeing as a result! They ensure your dive adventure suits your level of confidence and you will definitely come up smiling.  While the introductory divers are exploring the shallow reefs, their other diver instructor can guide certified divers through amazing deeper adventures. The professional crew onboard Wings will set the standard of fun and share their experience and knowledge with you.  (Dives are subject to passing a dive medical questionnaire onboard).
Enjoy Water Activities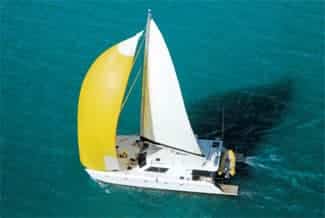 Snorkeling is an easy and relaxing way to peer leisurely into the giant aquarium below. Passengers are welcome to snorkel at every dive site we visit. The crew are always at hand to guide the novice or answer questions on the amazing marine life and environment. During the evenings you can relive your underwater adventures captured throughout the day by staff with their hi-tech underwater digital camera. Wings features 3 DVDs and a PC system with a huge home theatre movie screen and surround sound. This is a unique feature onboard Wings, with some of the best scenic shots screened - perfect postcard style and there are always action heroes for entertainment!  At the end of the trip, a DVD with about 500 photos is available for you to take home - all without ever having to worry about your own camera!
Wings is the perfect blend of action and relaxation, with your waking moments extremely memorable... there is nothing like the joy of sail!  Their crew are more than happy to show you finer details of sailing, this is a great opportunity to learn some basics. You can take the helm, help hoist the main or jump on a winch - or alternatively lay on the comfy nets in the shade of the sail listening to the ocean pass the hulls... the bliss of sailing.  There is plenty of time for a good book, snooze or a game of cards - or some beach cricket if you like action.
Fabulous Food
Their staff take great pride in their cuisine and you will be amazed by the feasts prepared to please your mega appetite after a full day's play. In the evenings, passengers enjoy their world famous Aussie BBQ under the stars. There are also delicious special menus for dietary requirements and vegetarians.