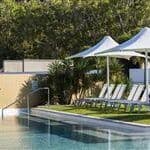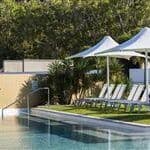 Peppers new tropical island experience is Peppers Blue on Blue Resort which redefines the essence of island holidays on Queensland's magical Magnetic Island. The resort features contemporary yet timelessly designed guest rooms, including resort-style suites and two and three-bedroom apartments. To fully embrace its waterfront location, the resort's sleekly decorated suites have sun-drenched balconies with some featuring private plunge pools.
Peppers Blue on Blue Resort is positioned on the water's edge in the heart of a new waterfront precinct which includes its own marina for guests to soak up a supremely nautical atmosphere. Set in tropical landscaped surroundings with beautiful marina and mountain views, guests will luxuriate in an immense saltwater swimming lagoon and indulge in the onsite Endota Day spa.
Guests enjoy an exciting contemporary menu and fine wine selection at the Boardwalk Restaurant and Bar which offers a casual atmosphere with serene views to the aqua water beyond. The restaurant provides the perfect setting for an intimate dinner for two and provides premium facilities for the ultimate island wedding reception.
Whether you're visiting Magnetic Island for leisurely relaxation or some more active pursuits both Peppers Blue on Blue Resort and the Magnetic Island region provides a variety of activity options. Throughout the year Magnetic Island boasts fantastic weather making it the ideal place to get outdoors and take part in the abundant outdoor leisure activities available. For those who just want to relax, Peppers Blue on Blue Resort combines the perfect blend of luxury and the island's natural beauty so you can enjoy the ultimate island experience without having to leave the comfort of the resort.