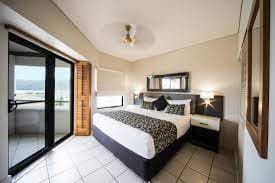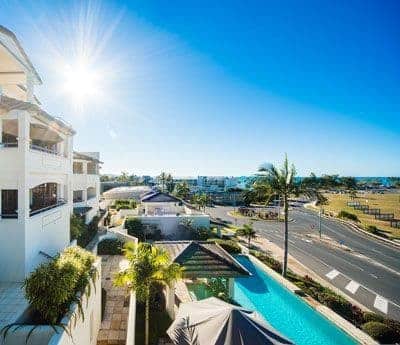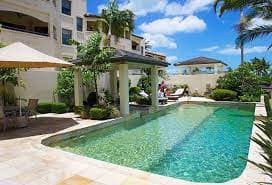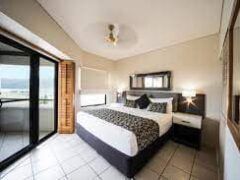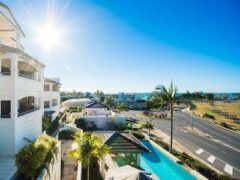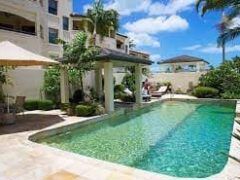 406 Shute Harbour Road , Airlie Beach, Queensland 4802, Australia
The waterfront way to stay in Airlie Beach.
Portside is one of Airlie Beach's newer, luxurious Award Winning, and sought-after premier holiday accommodations.
Experience ultimate 4* luxury and relaxation from your spacious balcony with views over the Sailing club and out to the Coral Sea and Whitsunday Islands.
Located on the mainland in the beautiful Whitsunday 74 Island region of Queensland, Portside is close to everything and is an ideal base to explore the Whitsunday Islands and The Great Barrier Reef.
The 19 luxury self-contained villa apartments have individually controlled air conditioning in every room. Portside is blessed with the best waterfront location, yet as private, personal and romantic as you could imagine. Relax around a wet edge swimming pool and spa surrounded by tropical landscaped gardens.
Portside's unique waterfront location means that its architecture, floor plan, and design all combine to maximize your Whitsunday holiday experience. Just staying at Portside will be a memorable holiday experience for all the right reasons, and when you add it's luxury and value – you just can't beat it!
Accommodation Information:
Portside consists of 19 luxurious, apartments with the following features
All apartments include:
Air-conditioning
Ceiling fans, Laundry
In-room broadband internet access
Satellite TV, STD & ISD phones
Some apartments feature lift access
Studio
sleeps 2
Queen bed, kitchenette
balcony
1 bedroom apartments
sleep 2
Queen bed, sofa bed
Full-size kitchen
Laundry, balcony
2 bedroom apartments
Sleeps 4
Queen bed + 2 single beds
Sofa bed
Full-size kitchen, living, dining
Laundry, ensuite + bathroom
Balcony
3 bedroom twin key apartments
Sleep 6
Queen beds x 2 + Single beds x 2
Sofa bed
Full size kitchen + kitchenette, living,
Dining, Laundry, ensuite + bathroom
Balcony
3 Bedroom Jacuzzi Suite
Queen beds x 2 + Single beds x 2
Sofa bed
Full size kitchen, living, dining, Laundry, ensuite + bathroom, Terrace/balcony + heated Jacuzzi
4 bedroom apartments
Sleep 8
Queens beds x 3 + Singles x 2
TV/Media room with sofa bed, gourmet kitchen, Living, dining, wet bar, laundry,
Main bathroom with spa, bathroom + ensuite
Extensive outdoor entertaining
Area including Private lap pool
Wednesday
Appointment only
Thursday
Appointment only
Saturday
Appointment only