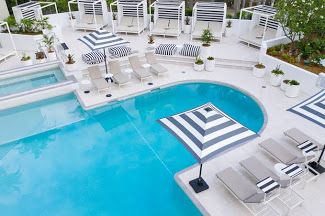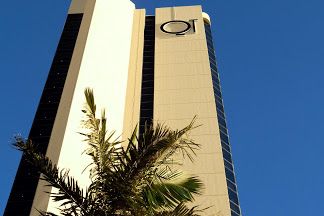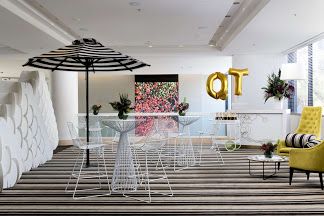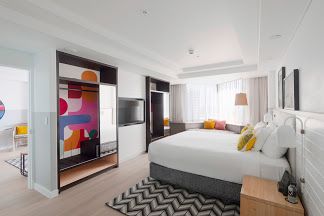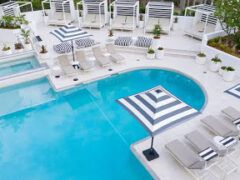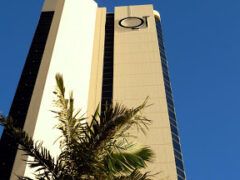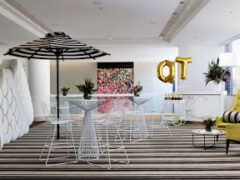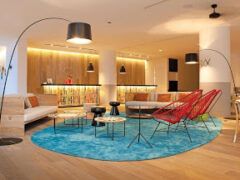 7 Staghorn Ave , Surfers Paradise, Queensland 4217, Australia
The QT Gold Coast, formerly Gold Coast International Hotel, is in the very heart of Queensland's dazzling Surfers Paradise at the Gold Coast. Ideally situated within easy walking distance of shopping, restaurants and nightlife and within only minute's drive to world-class golf courses, theme parks, nature and wildlife reserves, your options are endless.
Whether it's a romantic getaway for two, a family vacation or a corporate conference, the QT Hotel and its premium facilities leaves every guest spoiled for choice. With a reputation built on the belief that accommodation is just the beginning – the QT Gold Coast is much more than a place to stay.
You can relax in the comfort of your surroundings, or with a world of adventure at your door you can explore everything the Gold Coast has to offer. The expert team at the QT Gold Coast has it covered and will assist you in creating fantastic memories to last a lifetime. The QT Hotel – always inviting, always innovative, always interesting…
Gymnasium
For those guests wanting a workout, the QT Hotel Fitness Centre provides the ideal place for a cardio or fitness strength session in a thoroughly modern environment. The Fitness Centre boasts a heated outdoor pool and tennis courts.
Property Features:
Three award winning restaurants
Cocktail lounge & bar
Heated outdoor pool
Swim up bar
Tennis courts
Fully equipped gymnasium
24hr reception & assistant manager
Currency exchange
Undercover parking
Guest laundry
In-house security
Guest lounge
Concierge – tour desk
Restaurants
Indulge your tastebuds at the QT Gold Coast. Three of the Coast's most popular restaurants are located right here. There's the sumptuous Patio Seafood Buffet Restaurant, winner of the "People's Choice Gold Coast Best Buffet 2005 & 2006". The contemporary cuisine and signature 'Hot Rock' dishes at Lygon Street Restaurant, complemented by an extensive wine list, bring out the gourmet in every diner.
For the very best Teppanyaki and the Coast's freshest sushi and sashimi, go no further than their famous Yamagen Restaurant, renowned as the Gold Coast's best Japanese restaurant and awarded best Teppanyaki Chef in 2004 and 2005. Catch up with old friends and new at the popular Lava Bar for drinks and delectable snacks, or relax in your room with their 24 hour in-room dining.
Whatever your tastes, you'll always find something to tempt you at the QT Gold Coast.
Lygon Street Restaurant
Their Signature restaurant, Lygon Street delivers a cosmopolitan choice of cuisine for the casual diner. Refurbished to a new level of sophistication, Lygon Street is situated in the lower enclave of the lobby, and overlooks the hotel swimming pool. Guests can choose to dine alfresco, or in the calm ambience of the restaurant simply watching the world go by.
Infused with a relaxed atmosphere, Lygon Street Restaurant provides an abundance of choice. From light snacks and coffees through to contemporary cuisine – the signature dish 'Hot Rock', and the irresistible Flambé – all complimented by a distinguished wine list.
'Hot Rock'
If you are after a dining experience with a difference, try the signature dish 'Hot Rock' with a choice of either beef, seafood or both, served on a volcanic rock, allowing you to become the chef. A unique dining experience not to be missed!
Patio Seafood Buffet Restaurant
The newly renovated Patio Restaurant continues to live up to its reputation for presenting one of the most sumptuous buffets on the Gold Coast. Located on the 1st floor, the Patio Buffet Restaurant is a Gold Coast favourite delivering a mouth watering selection of hot and cold dishes, for both breakfast and dinner. The Patio's daily breakfast buffet features fresh fruits and juices, pastries and a variety of hot and cold dishes, accompanied by all the breakfast trimmings.
In the evening Patio Seafood Buffet Restaurant provides one of the Coast's most spectacular dining experiences. The buffet is filled with the freshest daily ocean catches including prawns, oysters, mussels, crabs and Moreton Bay bugs. There is also an endless choice of salads, cold meats and terrines, fresh breads, hot roast dishes, a divine selection of desserts and an extensive beverage selection including our additional wine buffet.
For the perfect dining option for the whole family, visit the Patio Seafood Buffet restaurant open daily.
Yamagen Japanese Restaurant:
The QT's Yamagen Restaurant is the pinnacle of Japanese culinary experiences, delivering authentic cuisine, in a traditional Japanese setting.
The Yamagen Restaurant offers an entertaining dining experience as the highly talented Teppanyaki Chefs show off their skills. The expertise and artistry of the chefs, combined with a service ethic that is second to none, have long been recognised as the key ingredients to the restaurant's enviable reputation and has ensured it remains a favourite with locals and visitors. Reward your palate with the sizzling aromas and meals prepared on either Yamagen's famous Teppanyaki BBQ Grill, from the inspired a la carte menu or many of the varieties of sushi prepared fresh daily by our very own Sushi Master.
All of our highly talented chefs cook each meal with precision and flair, from set menu options to individual items of rib eye fillets, Moreton bay bugs, fresh King prawns, chicken breast, Atlantic salmon, kangaroo and tofu – there is a dish to suit all tastes. The Yamagen Experience is a true marriage of high skill and dedication and continuously delivers its promise of superb food and affordability.
Dine with the locals between 5:30pm and 6:30pm for Yamagen's Sunset Teppanyaki special, offering a popular set menu including appetizer, California rolls, steamed rice, choice of sirloin steak or chicken, miso soup and desert all for the great value of $35.00 per person.
Conferences & Events:
In the demanding world of event management, the QT Hotel has long been considered as an ideal conference and events venue. In recent years we have repositioned ourselves with a strong focus in the conference and incentive market, specializing in attention to detail and ensuring that your event is a successful and memorable one.
The QT Gold Coast, in "the very heart of the Coast", prides itself in being renowned as a premium hotel boasting exceptional conference, exhibition and meeting facilities. Their new look Grand Ballroom is incredibly flexible for up to 750 guests, and their dedicated events team is focused entirely on exceeding your expectations whilst having the ability to tailor any event to suit your individual goals.
Innovative use of glass walls and expansive windows allows natural light to shine in on your event. With 16 versatile conference rooms, ideal for any event, grand or intimate, which feature natural light, adjacent outdoor areas and state of the art audiovisual and Internet technologies. Well appointed pillar-less function rooms play host to conferences, extensive trade shows, product or car launches and gala dinners. The Hotel also boasts a number of outdoor locations perfect for cocktails parties, casual Aussie BBQ dinners or team building activities.
Weddings:
On behalf of the QT Gold Coast they wish to extend their warmest congratulations on your engagement. The QT Gold Coast provides a thoroughly upmarket environment to stage your ultimate wedding. Whether you're planning an elaborate reception of up to 350 guests, or a small intimate cocktail party, the wedding packages have been specifically designed to cater for your special day.
Their professional and friendly wedding specialists will ensure that your wedding day is the happiest and most memorable occasion of your lives together. They are more than happy to tailor a package especially for you to create your dream Wedding Day. Allow us to make your Wedding Day the memorable beginning of an exciting journey together…
Accommodation Information:
Outside balconies, tables and chairs
Daily maid service
24 hour in-room dining
Air conditioning
Shower over Bath
In-room safe & Alarm clock radio
Mini bar
Television & Free Austar channels
In-room movies (pay to view)
Tea & coffee facilities
Hairdryer & bathroom amenities
Ironing Equipment
Direct dial phone & Voice mail
Wireless, Broadband & Dial-up Internet access
Wheelchair accessible room
The QT Gold Coast redefines premium accommodation with a unique blend of space, comfort, style, service and spectacular five-star views. With our stylish range of accommodation – 296 recently refurbished rooms – you're assured of a rejuvenated stay, whatever your aspirations.
Their spacious rooms are air-conditioned and feature their own private balconies so you can make the most of the fresh ocean breezes and the balmy, sub-tropical warmth. The views are simply breathtaking – amazing ocean, mountain and river panoramas stretch seemingly forever into the distance.
At night, a stream of shimmering lights link the Coast as it gets set to party. It's an experience – it's truly memorable – it's the QT Hotel!
Mountain River Rooms – Their Mountain River view rooms offer breathtaking views of the surrounding Gold Coast Hinterland, and the glistening Nerang River, which gently meanders its way through the multi-million dollar houses lining its banks, as far as the eye can see. By nightfall the views are transformed as the lights of the city produce a sea of diamonds leading towards the excitement of Surfers Paradise City. These large 37 square meter rooms feature a private balcony, a choice of one Queen bed, two Double beds or two Queen beds, a mini bar, and a private ensuite bathroom with bath/shower.
Ocean View Room – Their spectacular Ocean View rooms offer incredible views of the world famous Gold Coast beaches, with beautiful white sands and the sparkling blue waters of the Pacific Ocean. These spacious 37 square metre rooms feature a private balcony, a choice of one Queen bed, two Double beds or two Queen beds, a mini bar, and a private ensuite bathroom with bath/shower.
Executive Ocean Spa Suite – Their Executive Suites are all located on the ocean side of the QT Hotel, offering guests incredible views of the beach and ocean. Your suite features a separate lounge room and bar area with a private balcony, powder room, a master bedroom with an adjoining large ensuite, including a large round spa bath with views looking out over the ocean and Surfers Paradise. The separate bedroom in these suites are configured to feature a choice of either one King bed or two Double beds and offer deluxe amenities including bathrobes.