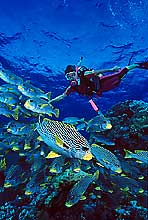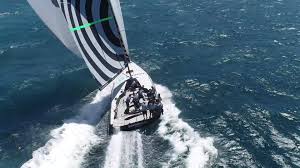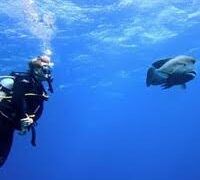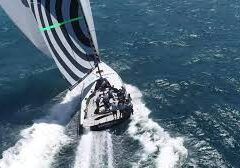 Vagabond Dive 'n Sail offers 2 day dive trips departing every Saturday, Monday and Wednesday from Cairns. Vagabond uses Moore Reef as their base for their dive sites, however as they have a roving permit plus weather permitting, they also visit other reefs like Elford, Thetford and Briggs reefs, as well as Michaelmas and Upolu cays, Green Island and Fitzroy Island.
The Vagabond vessel is a 65′ luxury world cruising yacht. It has comfortable diving and sailing facilities with a large aftdeck for scuba divers to set up their equipment, and can entertain up to 11 guests. All cabins are double or twin bunk for privacy, along with fresh linen and hot showers.
All meals are prepared on board and the menu varies each day with an accent on fresh quality local produce and ingredients in a fusion of Asian and European cuisines. The crew ensure a relaxing and informal atmosphere providing personalised service with every trip.
GREAT BARRIER REEF ADVENTURE
Because Vagabond offers 2 day dive trips, there is no fixed timetable or particular route they take. No rush to get anywhere. They cater to individual needs and you can just relax and enjoy the trip. All you need to bring is some sunscreen, a hat, sunglasses, a beach towel, a small overnight bag and maybe a sweatshirt/cardigan for the evening. Larger bags and backpacks can be stowed.
SNORKELLING & DIVING
If you have no dive experience, snorkelling is also a great way to see the wonders that the Great Barrier Reef has to offer, with colourful marine life and beautiful coral gardens.
For people who wish to have an introductory dive, all diving equipment and instructors are available for your saftey and enjoyment.
Certified divers can enjoy the reef and tropical fish life at their leisure. Drift dives, night dives and swim throughs are also available.
Departures
Boarding is at 7:30am for an 8:00am departure from D Finger 16 Marlin Jetty every Saturday, Monday and Wednesday.
Cancellations
All monies forfeited subject to management's discretion. For passengers voluntarily leaving the vessel there will be no refund. On very rare occasions all cruise services or a single dive can be subject to the effect of weather or unforeseen circumstances. All dives are weather permitting Captains discretion. No refund for uncompleted dives. Should a cruise not operate for any such reason passengers will be offered an alternate day for the days lost. The operator reserves the right in extreme circumstances to alter or cancel any trip or use substitute vessels.