Whitsunday Island Weddings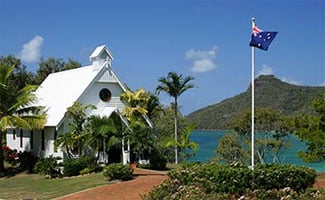 If you are planning your Witsundays wedding then an island nuptial celebration could well be what you are looking for. There are a lot of advantages in having your wedding in a distant location and if you go to the Whitsundays you can have your honeymoon there as well. The island resorts have a special attraction for a great wedding and most of them have dedicated wedding staff to help you put the whole package together in the one place. A Hamilton Island reception and wedding celebration will be extremely popular with all your friends as they get to have a short holiday as well and it is so easy to get to. You can fly in direct from all southern capitals and be delivered right to your accommodation with all of your arrangements in place. A Hayman Island garden wedding and fantastic reception can be arranged in a very similar fashion and a Daydream Island wedding is also a great alternative.
On the Mainland there are also some terrific alternatives. An Airlei beach wedding including local airlie beach reception facilities gives you the opportunity to hire a charter boat for the ceremony or to utilize one of the superb local resorts like Coral Sea resort who will also arrange everything for you so that all you have to do is relax and celebrate.