Information about Whitsunday Golf Holidays
The Whitsundays is now a great destination for a Golf holiday. Up until recent times, getting to a great golf course in the Whitsundays was an expensive exercise and often required the services of a helicopter to get you to a decent Golf Course. Fortunately, this is now, not the case. There are two superb layouts in the Whitsundays.
The first of these is the Laguna Quays layout situated about twenty kilometres south of Proserpine. This is by far the best course on the mainland, and is the destination of choice, for most local golfers. The Course is fantastic with some extremely challenging holes. It is complimented by being attached to a modern resort and also has marina facilities if you happen to arrive by boat. It was created by a Japanese consortium without a question as to the cost and in its early days was home to the Australian Skins tournament and was played by golfing stars like Greg Norman.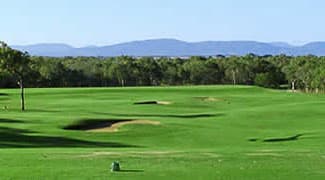 The latest addition to the Whitsundays golfing scene is the new layout that has been built by the Hamilton Island group on nearby Dent Island. This is now one of Australia's most spectacular golf courses. As time goes by, it will become known as the Pebble Beach of Australian Golf. It has been designed to challenge every golfer from beginner, right through to the best professionals. The course has a number of holes that are exposed to the South east trade winds and when they blow it will be a mighty challenge indeed. Almost every hole has sensational views over the surrounding islands of the Whitsunday Passage. Access to the course is via ferry from Hamilton Island Resort itself. This course is complimented by fantastic facilities and a magnificent club house.
If you are into Golf and need a holiday, then come straight to the Whitsundays for your golfing fix.