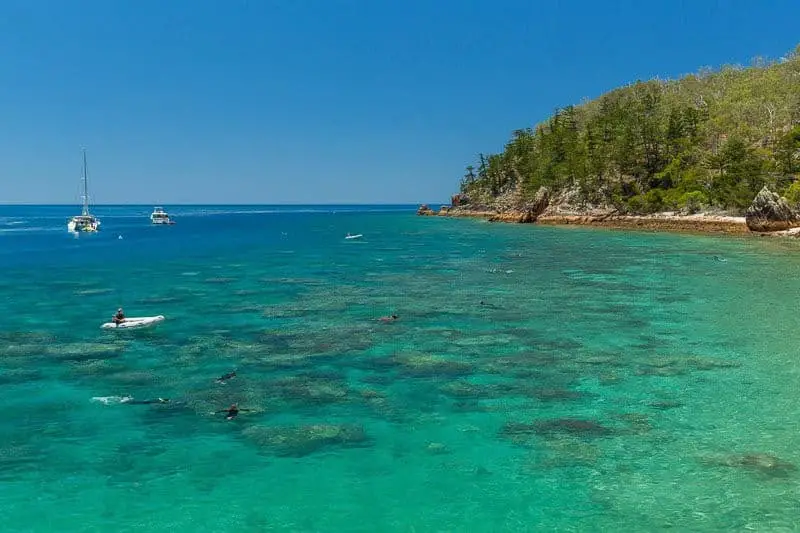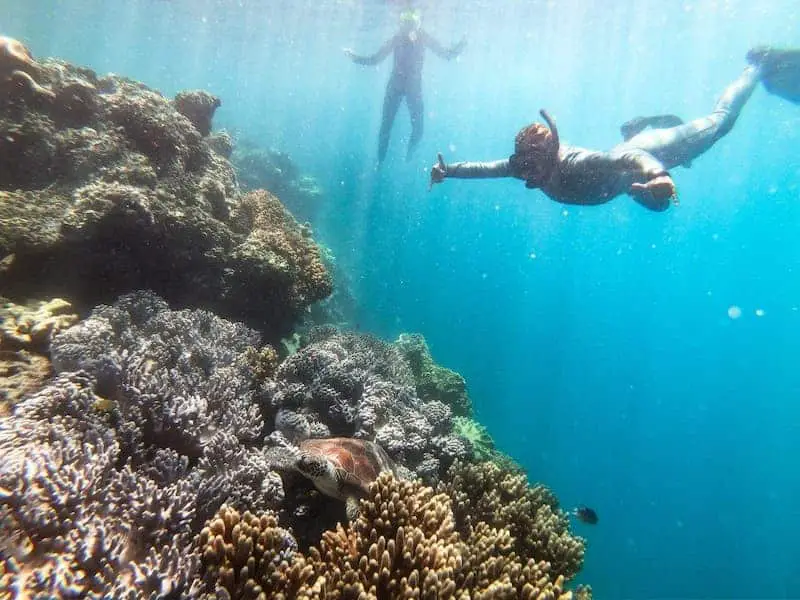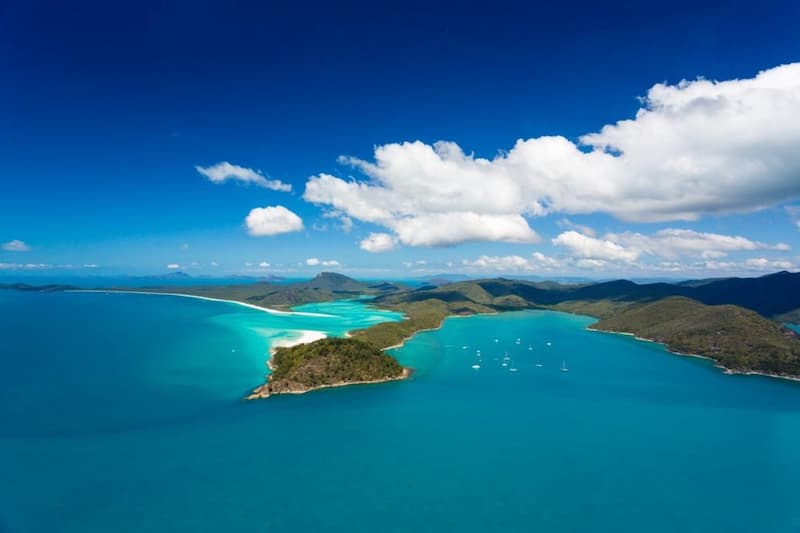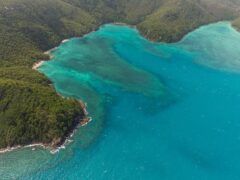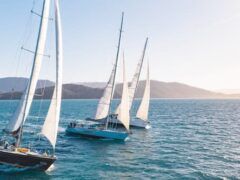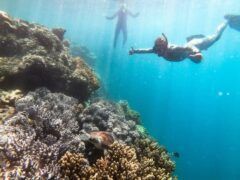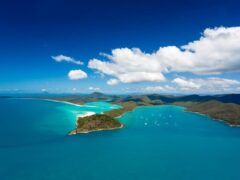 350 Shute Harbour Road , Airlie Beach, Queensland 4802, Australia
Around the beautiful Whitsunday Islands, you find that the further North you go, the better the marine life and coral formations are. Hook Island and Langford Reef are two of the most northern islands in the Whitsundays and are both amongst the premier sites for diving around the Whitsundays. They are both lovely examples of the Great Barrier Reef Marine Park with the bays full of extraordinary coral formations and marine life in abundance.
From the time you wade into knee-deep water there are many varieties of fish around your ankles and within swimming a couple of meters off the beach there is coral under you and once again fish surrounding you. This makes these destinations perfect places for "beginner" or "nervous divers" because when you have plenty of distraction it tends to help the nerves!
For the Certified Divers, there is a guided dive available that is under the supervision of their experienced Dive Instructor/Master. There are overhangs, crevices to explore, and huge bommies (coral heads) of stunning coral. The marine life is very impressive with anemones, seas cucumbers, starfish, nudi branches, just to name a few. The dive instructor will simply guide you around and point out different marine life of interest as you go along to ensure that you have an enjoyable dive. It is a very easy dive because you have someone to do all the navigation for you and it is also a very beautiful dive.
The Introductory Dive provides the chance for people who have never tried Scuba Diving before to experience the wonders of diving on the reef under the guidance of an experienced Dive Instructor.
First of all, you are given a brief on the boat explaining a few things that you need to understand as well as letting you know exactly what is going to happen so you are nice and comfortable.
Once you are out at your dive destination you will practice and get comfortable in waist-deep water first, and then once everyone is happy with that the tour commences. You will be taken out and guided around the bay amongst the beautiful coral. The instructor will point out different marine life for you while taking care of all the technical side of things. It is a very beautiful experience and also very easy. The Dive Instructor is there to babysit you as much or as little as you need (if you wish to hold their hand for the entire dive you can). Most people come back and say the diving is easier than the snorkeling
Introductory divers need to sign a medical statement to say that they do not currently suffer from or have a history of Asthma, diabetes, epilepsy, operations on the lungs, heart or ears, and any medication currently been taken or recent operations/illnesses have to be declared. These forms need to be completed before you arrive a the dive site.
Please let them know at check-in if you wish to dive as not pre-booking could cause disappointment later.
EXAMPLE OF A MEDICAL CHECKLIST
MEDICAL HISTORY
To the Diver:
The purpose of this medical questionnaire is to find out if you should be examined by your doctor before participating in recreational scuba diving. A positive response to a question does not necessarily disqualify you from diving. A positive response means that there is a pre-existing condition that may affect your safety while diving and you must seek the advice of your physician.
Please answer the following questions on your past or present medical history with a YES or NO. If you are not sure, answer YES. If any of these items apply to you, we must request that you consult with a physician prior to participating in scuba diving.
Could you be pregnant or are you attempting to become pregnant?
Do you regularly take prescription or non-prescription medications? (with the exception of birth control)
Are you over 45 years of age and have one or more of the following:

currently smoke a pipe, cigars, or cigarettes?
have a high cholesterol level?
have a family history of heart attacks or strokes?
Have you ever had or do you currently have…
Asthma, or wheezing with breathing, or wheezing with exercise?
Frequent or severe attacks of hay fever or allergy?
Frequent colds, sinusitis, or bronchitis?
Any form of lung disease?
Pneumothorax (collapsed lung?)
History of chest surgery?
Claustrophobia or agoraphobia (fear of closed or open spaces)?
Behavioral health problems?
Epilepsy, seizures, convulsions, or do you take medications to prevent them?
Recurring migraine headaches or do you take medications to prevent them?
History of blackouts or fainting (full or partial loss of consciousness)?
Do you frequently suffer from motion sickness (seasick, carsick, etc.?)
History of diving accidents or decompression sickness?
History of recurrent back problems?
History of back surgery?
History of diabetes?
History of the back, arm, or leg problems following surgery, injury, or fracture?
Inability to perform moderate exercise (example: walking one mile within 12 minutes)?
History or high blood pressure or do you take medication to control blood pressure?
History of any heart disease?
History of heart attacks?
Angina or heart surgery or blood vessel surgery?
History of ear or sinus surgery?
History of ear disease, hearing loss, or problems with balance?
History of problems equalizing (popping) ears with airplane or mountain travel?
History of bleeding or other blood disorders?
History of any type of hernia?
History of ulcers or ulcer surgery?
History of colostomy?
History of drug or alcohol abuse?
The information I have provided about my medical history is accurate to the best of my knowledge.
Diver Signature ________________________
Parent / Guardian Signature ____________________
Date of Signature _______________
This PADI Form is Product Number 10065 / © International PADI, Inc. 1991 – 2008