1770 Activities & Attractions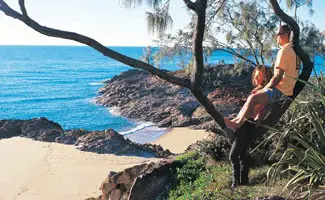 The holiday activities in the towns of 1770 and its close neighbour, Agnes Water leave nothing to be desired. This is a holiday town par excellence and is one of the most popular family holiday destinations in Queensland. There is so much to see and do here that the family will be entertained for days.
Many people come for the beautiful surfing beach. When strong south easterly winds blow, an excellent surf runs here. The beach is also great for families who come here in thousands for their annual holidays and to enjoy all the local activities. The Eurimbula National Park is located just to the north of 1770 and this is a great destination for camping, fishing or just a family bar-b-que in the Australian bush. There are a number of day trips operating from 1770. There is a trip to Lady Musgrave Island that operates on a daily basis. This island is a true coral cay and is located right on the Great Barrier Reef itself. The diving and snorkelling here is absolutely spectacular, and the Capricorn section of the reef in which lady Musgrave Island lies is generally considered to have the best diving on the reef.
Daily trips aboard a Larc amphibious vehicle also operate though the estuary of the Eurimbula National Park and on to the historic Bustard Head Lighthouse. This is a spectacular tour that takes you to places that you could never see any other way and is also a great family activity. The local fishing is revered in angling circles and the local fishing charter boats will almost always return with an excellent haul of fine table fish. Don't forget your golf clubs when you come to 1770. There is a really beautiful local nine hole course and a hospitable clubhouse where all visitors are welcome.
If you can find another coastal town in Queensland that still has its local charm and can offer all the activities that are available in 1770 and Agnes Water it truly is being kept a dark secret.