Airlie Beach Accommodation - Holiday Accommodation
Airlie beach accommodation includes a range of properties encompassing hotels, motels, apartments, resorts and backpacker hostels. This accommodation is located primarily in the centres of Cannonvale and Airlie Beach. Most Airlie Beach accommodation is located within easy walking distance of the village like shopping area which is full of souvenir shops, restaurants, boutiques and cafes. There is a huge lagoon swimming pool located right on the waterfront which is over an acre in area and is always full with relaxing tourists and holiday makers.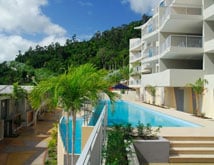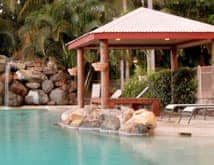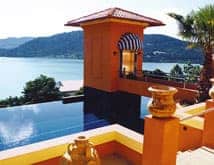 In Airlie Beach the choice of accommodation is quite vast. Backpackers will want to stay at Beaches Backpackers which is located right in the middle of town. Families will appreciate the range of holiday apartments and resorts which include Coral Sea Resort, Martinique Whitsunday, Boathaven Spa resort, Mediterranean Resort, Pinnacles resort and Spa, Portside Whitsunday, Sea Star Apartments, Toscana Village resort, Whitehaven beachfront holiday units and the magnificent Waters Edge resort. Also in the Airlie Beach area are Whitsunday Wanderers resort, Whitsunday Vista Resort and Whitsunday Terraces holiday apartments. The Short term visitor will probably prefer options such as the Airlie Beach Hotel or the Airlie Beach Motel.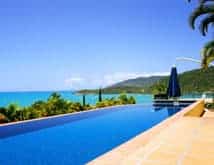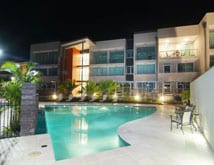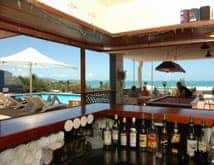 At Cannonvale the range of accommodation includes Club Crocodile resort, Beach Court Holiday Villas and Sailz boutique holiday units. While visiting the Airlie Beach area your holiday will not be complete without experiencing some of the local tours and attractions. The Whitsunday group of islands lies just of the coast and there is a huge range of tours and charters to choose from. Fantasy Cruises runs tours to the The outer coral reefs and Whitehaven beach as well as operating a ferry service to most of the nearby island resorts. There are also a myriad of sailing adventures to take part in including a day on a Maxi Yacht or extended sailing adventures with Oz Adventure Sailing. Airlie Beach is also a wonderful location from which to charter a bareboat yacht or motor cruiser and spend a few days in the most relaxing way of all cruising through the magnificent Whitsunday Islands.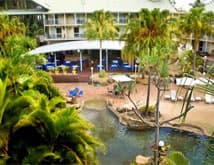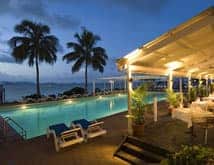 Our helpful staff are available to answer all your questions and to help you arrange the your most memorable holiday ever. So to discuss your Airlie Beach accommodation. call Australian Travel Wholesalers on the number below or email our office