Fraser Coast Accommodation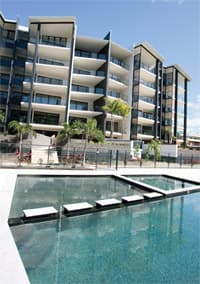 Fraser Coast accommodation will suit the requirements of any holidaymaker. Fraser island itself lies just offshore and its natural attractions draw tourists from around the world to stay in the region. The range of island resort accommodation is extraordinary. A Fraser Island holiday home can cater for a whole family. Mostly these are on the ocean side of the island at Eurong, Happy Valley or Orchid Beach and they range from beach shacks to mansions. Fraser Island backpackers are really well catered for. They come and camp at Cathederal Beach resort or stay at Fraser Island Backpackers at Happy Valley. If you want a resort then there are two major ones to choose from. Eurong Beach Resort on the ocean side is a three star resort and Mercure Kingfisher Bay resort on the inland side is a multi award winning four star eco resort.
The major mainland town that services the Fraser coast is Hervey Bay. It is the major access point for the island and also has a domestic airport. Places to stay in Hervey Bay include great resort style accommodation which is mostly located either on the Esplanade or in the Urangan Boat harbour precinct. There are several quality resorts to choose from. There is also plenty of self contained apartment style accommodation that is really suitable for families.
South of Fraser Island is Rainbow Beach. Although it is technically on the Sunshine Coast it is now a major departure point for travellers entering Fraser Island via the barge at Inskip Point. There is a huge range of backpacker hostel style accommodation here as well as a selection of resorts and apartments.
If you are planning a holiday to the Fraser Coast, you will find there is plenty of Fraser Coast accommodation on offer and some times there are specials as well.