Booking information for Magnetic Island Holiday Accommodation
Tourists and holiday makers coming to stay on Magnetic Island will find an excellent supply of holiday accommodation. Magnetic Island accommodation has, in the past, been restricted to an older resort and many individual holiday homes. Today, however, all of this has changed. There is now a fantastic selection of apartment resorts, and backpacker hostels to add to the original supply.
Magnetic Island has three main holiday regions. Horseshoe Bay is always popular as it has the best beach on the island. There is a number of dining options with beachfront bistro's, cafes and restaurants. Also situated on the beachfront esplanade are several excellent holiday apartment complexes and backpacker hostels. The beach is protected by a stinger net enclosure to make swimming safe from box and irukanji jellyfish and there is a supply of jet ski's, sailing boats and paddle ski's available for hire.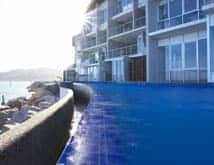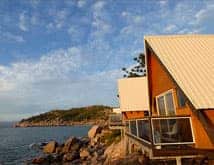 Picnic Bay is the oldest part of the island and like Horseshoe Bay, it has an esplanade that runs along the beachfront. Picnic Bay also has a large jetty which was originally the ferry terminal but is now an ideal place to take the kids fishing. Picnic Bay also has an esplanade where you can rent out holiday apartments and holiday homes. The local shops, restaurants and cafes all cater for the holiday trade. As Magnetic Island also has a large population of permanent residents, the local businesses also cater to the locals as well.
The most popular place for holiday makers to stay is now in one of the new resorts surrounding the marina and the new boat harbour at Nelly Bay. This part of the island is the most developed with excellent shopping, hotel and local eateries. The Nelly Bay Boat harbour now contains the ferry and barge terminal for vehicular barges and regular fast catamaran services to and from Townsville, which is the nearest mainland city. Overlooking the harbour and marina are Mantra One Bright Point resort and Peppers Blue on Blue resort. Both contain many new apartments in one, two and three bedroom configurations, have in house dining facilities and are both four and a half star. The Accor hotel group now operate the Magnetic International resort which has a garden setting and is a little further back from the waterfront. Backpackers are also well catered for with the beautiful, Base Backpackers located right on the ocean front at Nelly Bay.
Magnetic Island has plenty of holiday accommodation for your selection so why not come and visit and relax for a while.