Main Beach Accommodation - Holiday Accommodation
As the Gold Coast continues to grow as an international tourist destination, the supply of Main Beach accommodation has also grown to cater for the diversity of the requirements that incoming tourists need in the Main Beach area. Main Beach is a microcosm of the entire Gold Coast tourism market and now needs to cater for both the family holiday market, the corporte market and the very top end of hotel and resort market. As continuing development has occured in the region, new resorts and apartments have been built to suit this changing demographic.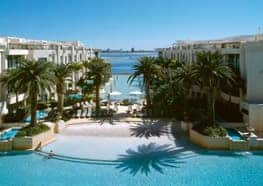 Main Beach accommodation lies in two distinct areas. The first surrounds the Tedder Avenue shopping precinct and includes the beachfront espanade. In this region you will find ideal family style holiday apartments by the thousands. The most expensive of these and probably the most sought after are those that have frontage onto the beach itself. In this section, the Main Beach accommodation is conveniently located close to parks and gardens and Tedder Avenue. This precinct is one of the Gold Coasts most popular cafe strips and is full of alfresco restaurants and diners, which all add to the wonderful holiday atmosphere.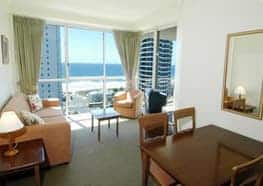 The second distinct accommodation region is the southern end of the Southport spit which adjoins Main Beach. Just south of the Seaworld theme park are two of the highest standard local resorts. Pallazo Versace leaves no stone unturned in its quest for excellence and provides six star service for its corporate, international and well heeled Australian clientele. Across the road on the oceanside lies the magnificent Sheraton Mirage resort which is world renowned for excellence in accommodation and service.
Back in Main Beach proper there is a wide range of holiday apartments to choose from. Breakfree Maldives resort and Breakfree Sunbird Beach are two of the Breakfree group's most popular resorts. Pacific views resort now owned by the new Dreamtime resorts group is a high quality holiday apartment property located very close to the beach. The Golden Sands holiday Apartments, also owned by Dreamtime Resorts is another quality property catering to the family holiday market. Golden Gate Holiday apartments are reasonably priced and extremely popular during the Gold Coast Indy with views straight down over the pits area and along the main straight. Many of these resorts often offer specials and packages that make balancing the holiday accommodation budget a bit easier.
Let us assist you in making your Main Beach accommodation booking.