A Tourist Guide to Maroochydore Accommodation, Hotels and Holiday Apartments.
On the Sunshine Coast, there are a number of great holiday destinations. Maroochydore is one of these and there is plenty of holiday accommodation that will suit almost every holiday maker coming to the coast. Maroochydore lies right in the geographical centre of the Sunshine Coast with frontage to the ocean surfing beaches as well as the river estuary. Its main tourist attractions are related to its water front position and most of the holiday accommodation it provides is on the water front. Those holiday makers staying in Maroochydore accommodation will find so many things to see and do that are within easy reach.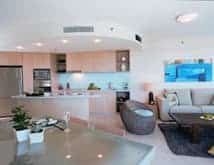 Within walking distance of most of the local accommodation are many restaurants, take away food stores, cafes and pubs and the Maroochydore CBD has a wide range of shopping facilities. Sunshine Plaza shopping centre is also within walking distance of most holiday accommodation resorts. The holiday accommodation in Maroochydore lies in two main regions. The first one is on Duporth Avenue and the northern section of David Lowe Way. These two roads follow the banks of the South Maroochy River and are lined with many holiday apartment complexes. The second region is around Cotton Tree, Alexander Parade and Aerodrome Road which follow the ocean beach as you drive south toward Mooloolaba. The accommodation that follows the river is closer to the shopping centres, while the southern section is all within walking distance of the beach so you only need to decide which area is best for you and then pick one of the resorts in that region.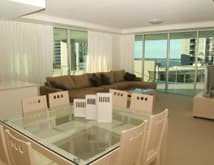 Maroochydore has lots of nearby attractions, especially if you are a family, on holiday with your kids. Mooloolaba is just a short run down the road and here you can take the kids to be entertained at Underwater World. The aquatic displays here are fantastic with things like touch tanks for the littlies, aquariums, seal and sealion displays and souvenir shopping. Underwater world is adjacent to "The Wharf" shopping centre and this is also a great restaurant and café precinct. An hour or so's drive down the road will take you to see the late Steve Irwins "Australia Zoo" which is always a favourite for parents and kids alike. Come and see the crocodile feeding as well as the myriad of other animals that now make up the zoos population. Tours and shuttle services are available from your accommodation to see both. Australia Zoo also runs whale watching trips from Maroochydore during the months from June to November.
The choice of holiday accommodation at Maroochydore will provide lots of options and specials as you plan your Sunshine Coast holiday.