Mission Beach Accommodation - Holiday Accommodation
Tourists and visitors to Mission Beach will find excellent holiday and resort accommodation. When it comes to accommodation, Mission Beach is one of those places where you can find a bit of everything. Visitors come from all walks of life so backpackers, families and even international tourists along with the worlds rich and famous can all come to Mission Beach and find their ideal place to stay.
For backpackers, the attraction of the rainforest, white water rafting and wildlife makes it a must see destination. Mission Beach has a number of backpacker hostels and these provide both access to jobs in local farms and tour advice on where to go and what to see. Modern backpacker hostels provide beds in dormitory rooms as well as double rooms, some with ensuite facilities. For families there is a lot to choose from. Many of the caravan parks have cabins that cater for mum and dad as well as up to four children. In this region they are all located in beachfront positions. There are also plenty of holiday homes and apartments to rent and these are probably the best family accommodation you can get.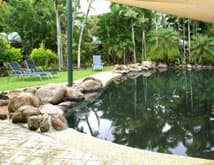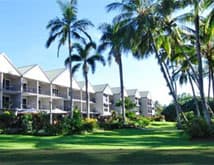 At the upper end of the accommodation scale, Mission Beach has a selection of both mainland and island resorts. Mission Beach Eco Village is situated right on the beach at the northern end. It is built amid dense rainforest that surrounds each of the units. The gardens themselves are spectacular although there has been cyclone damage in 2011 from category five cyclone Yasi which passed over the area. The island resort that can be found just offshore from Mission Beach was also extensively damaged and will reopen in April 2012 after a complete rebuild. These are Dunk Island resort and Bedarra Island resort. It is best to visit the Mission Beach region in the dry season so that visitors are not impacted by cylones. The months from May through to November are the safest times. Mission Beach is one of the most beautiful places to visit so make sure you include it on your holiday and try out some of the superb Mission Beach accommodation.