Booking information for Mooloolaba Accommodation - Holiday Accommodation
A Holiday in Mooloolaba accommodation is fast becoming one of Queensland's most popular beachside destinations. There has been a development boom on the Mooloolaba beachfront over the last five years that has transformed the area into a sophisticated Riviera style tourist resort. The beachfront shopping area is now filled with a myriad of restaurants, cafés, boutiques and galleries with excellent shopping, fantastic dining and a wide range of near new apartments and resorts in a range of hotel and holiday apartment style properties.
Along the ocean front shopping strip lie the most sought after properties. At the top of the range are the fabulous Sirocco and Zanzibar resorts. Sirocco is five star and Zanzibar is four star. Almost next door is the magnificent Outrigger Mooloolaba International Beach Resort. This hotel features fully self contained apartment style accommodation with fabulous ocean and beach views and direct access onto the best shopping and restaurant precinct on the Mooloolaba ocean front. Other oceanfront properties within the shopping area include Landmark Resort and Sandcastles apartments.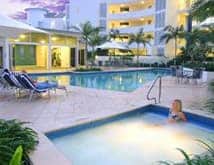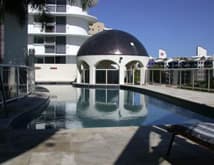 There is a wide variety of accommodation properties close to the Mooloolaba esplanade in the shopping precinct. Such properties as Nautilus Mooloolaba, Breakfree Carribean Resort and Seamark on first all offer high quality resort style holiday apartment accommodation right in the middle of the Mooloolaba holiday precinct. Towards Alexandra headland there are also a number of high quality resorts. Osprey Resort is situated on the hill opposite the oceanfront and has wonderful ocean views. It is only a short walk to Mooloolaba shopping area and both the beaches of Mooloolaba and Alexandra headland. Close by at Alexandra headland you will find many popular resorts that line the ocean front. Alexandra beach resort is extremely popular with its river pools and swim outs. Grand Palais, Ocean Boulevard and the Oaks Seaforth resort are also found along the beachfront strip and all provide quality Mooloolaba accommodation in modern holiday apartments. Mooloolaba accommodation specials are often available.
This link will take you to information on Mooloolaba accommodation. Click the link for a list of accommodation or ring our freecall number 1800 815 378 to make a booking.