Booking information for Palm Cove Holiday Accommodation
Of all the beachside suburbs north of Cairns, Palm Cove is the most popular and has by far the best accommodation. Palm Cove is about twenty minutes drive north from the Cairns airport and located on the best beach in far north Queensland. The superb beach is one of the many things that attract holidaymakers to stay in Palm Cove. The beach is complimented by equipment hire services that include jet ski's, kayaks, paddle ski's and wind surfers. The town has a long esplanade which is lined with coconut palms, massive Melaleuka trees and beautiful accommodation resorts, most of which command panoramic views over the sand and the Coral Sea. Most of the resorts have their own alfresco restaurants which results in a boulevard where people can enjoy the tropical climate to the full while at the same time being part of the cosmopolitan ambience that pervades throughout Palm Cove.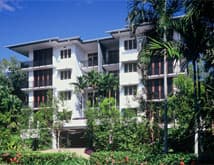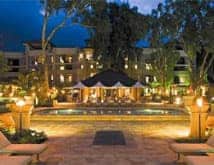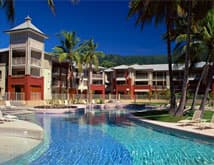 Most Palm Cove accommodation is in apartment style resorts or in hotel style accommodation. In most cases, Palm Cove accommodation and Trinity Beach Accommodation caters to the more affluent end of the market and most of the local resorts are either four or five star rated. The resorts are almost all built surrounding a lagoon style swimming pool as the climate dictates swimming and sun baking as the most popular pastimes for holiday makers. Patrons tend to be of international origin or have come from Australia's southern states. This migration occurs most commonly during the winter months as southerners try to escape from the winter cold. During the southern winter months and through the spring Palm Cove is alive with tourists and the accommodation houses are full to overflowing. At this time of the year it is essential to book your accommodation well in advance.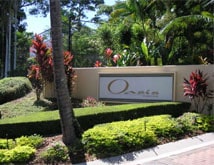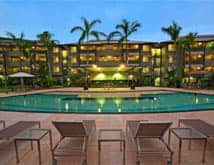 One of the reasons Palm Cove is so popular is the fact that is located within easy reach of many of the region's best tourist attractions. All the resort have a tour desk to assist patrons to take tours to as many of these as possible. All tours in the district will pick up from your chosen accommodation and drop you back there at the end of the day. Port Douglas to the north, the Daintree rainforest, Mossman, the city of Cairns, the Skyrail and Tjapukai Aboriginal display are major land based attractions. The most important attraction to see while in the Palm Cove region is obviously the Great Barrier Reef.
Tours to the Great Barrier Reef are available from either the Palm Cove jetty itself, Port Douglas or Cairns. There are hundreds of alternatives to choose from. Day or extended trips, diving, snorkeling and dive training and accreditation are all available while staying in Palm Cove accommodation.
Other Spellings;Palm Cove Accomodations