Booking information for Port Douglas Holiday Accommodation in Australia
Most of the holiday accommodation in Port Douglas falls into the four and five star category. Port Douglas has developed a reputation as a luxury destination and most of the resorts that have been built here fall into this category. With a tropical climate, Port Douglas lends itself to resorts that have huge swimming pools, water features, spas and Jacuzzis and beachfront locations.
The Balinese style of architecture is very popular in Port Douglas. Accommodation that allows the free flow of the prevailing south easterly breezes is the most popular. Many of the new resorts feature open courtyards surrounded by bedrooms and living areas and almost all incorporate air conditioning and either plunge pools or spas. Many of the larger resorts like the Sea Temple resort, Mantra Aqueous and the Sheraton Mirage resort feature huge lagoon style swimming pools where a rowboat would not be out of place to explore their surrounds.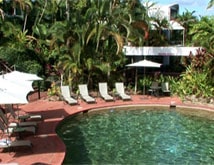 Port Douglas has a small but cosmopolitan town centre. Both sides of Macrossan Street, which is the main street in town, are wall to wall with luxury places to stay. Some of these resorts are small and intimate while others cater for more guests and often compete with each other to provide the most luxurious inclusions. Many have superb in house restaurants and cafes and employ top class chefs and wait staff. The atmosphere of Macrossan Street is that of a bustling holiday centre and those staying in centrally located accommodation can step out their door and are immediately caught up in the holiday atmosphere of alfresco cafes and fine dining restaurants. This street has the marina and estuary at its northern end and the beautiful sands of the Port Douglas beachfront at its southern end and it is only about ten minutes walk from one end to the other.
Several of the larger resorts have special facilities like resort golf courses. Both the Sea Temple resort and the Sheraton Mirage resorts have beautiful layouts. The local landscape lends itself to building excellent golf courses with natural wetlands, remnants of rainforest and plenty of rainfall. Accommodation in condominiums and apartments is available with views over the fairways.
Most guests, coming to stay in Port Douglas accommodation will arrive by air into Cairns international airport. Regular transfers from Cairns are available by coach or limousine and the drive to your chosen accommodation is along one of Australia's most beautiful coastal highways.