Magnetic Island - Townsville - Holiday Packages and Resorts
Magnetic Island was named by Captain James Cook during his second Voyage of exploration along Australia's east coast. He noticed a magnetic variation of his compass as he passed by and named the island accordingly. The island itself has a unique appearance. It is hilly and covered with pine trees. The entire island is strewn with giant granite boulders and these are prevalent both on the ridge tops, down the hillsides and along the shoreline. Magnetic Island lies close to the Queensland Coast off the northern city of Townsville and is now a suburb of that city. The island is connected to Townsville by both vehicular ferry and fast catamaran services. A new boat harbour and marina has been constructed at Nelly Bay on the islands southern side and a comprehensive ferry terminal services passengers coming to and fro from the mainland.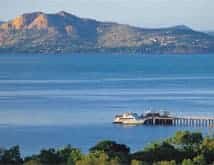 Magnetic Island has three main settlement areas. They are Picnic Bay, Nelly Bay and Horseshoe Bay. Picnic Bay is the original settlement and has a large jetty, which served as the ferry terminal before the boat harbour was built. There is a lovely beach lined by holiday apartments and a small commercial area with restaurants, convenience stores and cafes. Nelly Bay is the largest settlement on the island and the best quality holiday lodgings and places to stay can be found here. Two modern resorts front the marina at the boat harbour and another has a beautiful garden setting a little inland. There are also supermarkets and general shopping. Nelly Bay also has a delightful nine hole golf course which provides a great place to be entertained for a day. On the offshore side of the island is Horseshoe Bay. Here you can enjoy the most popular beach on the island with stinger net enclosures and lots of beach hire equipment. Horseshoe Bay is usually full of passing yachts and cruisers anchored for a short stay. A commercial area lines the esplanade and it provides local shopping facilities as well as cafes, galleries and eateries.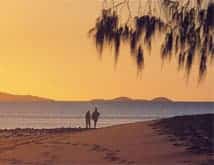 Magnetic Island is a wildlife sanctuary. Many of Australia's unique wildlife species can be seen here including possums, flying foxes, many species of birdlife, kangaroos and wallabies and Australia's largest population of Koala's. Most of the islands roads are sealed and almost every mini moke that was ever built has found its way here and joined the local hire car industry. It is great fun to hire a moke for the day and explore the islands beauty spots. Magnetic Island is very popular as a holiday destination with Australian families as it provides great beaches, swimming, diving and fishing. It is an integral part of the backpacker circuit and tens of thousands of international tourists come to Magnetic Island as part of their Australian holiday.