Australian Day Tours - Australia Zoo Croc Express
The Sunshine Coast, home of the Crocodile Hunter and Australia Zoo, has been a popular holiday playground for Australian's and visitors alike.
This tour goes directly to and from Australia Zoo, made famous by the antics of Steve and Terri Irwin (The Crocodile Hunter) and their global documentaries and now a living legacy to Steve.
You will have time to experience the best of Australia Zoo. This wildlife "Theme Park" is too good to rush. Spend almost 6 hours seeing the many shows and demonstrations including crocodile feeding and snake handling. The handlers even walk the animals through the park so you can get "up close and personal". The Zoo has a team of over 500 who believe in "conservation through education", who will ensure you have a wildlife experience you will never forget.
View the majestic Glasshouse Mountains bordered by pineapple plantations and pine forests as you travel along the Steve Irwin Way scenic route.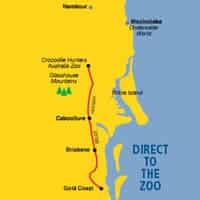 TOUR HIGHLIGHTS
• Crocodile Feeding
• Australia Zoo Entry
• Over 6 hours at Australia Zoo
• Deadly Snakes
• Australia's Wildlife Theme Park
• Koalas and Kangaroos
• Glasshouse Mountains
• Camels, Tigers, Dingoes and more
• Australian Souvenirs
• Experienced Guides
• Interesting & Informative Commentary
• Elephant feeding
• Exclusive reserved seating
CROC EXPRESS TOUR Ex Brisbane
DAILY - DIRECT TO ZOO
ADULT
$139
INFANT (1-2yr)
$0
CHILD (3-14yrs)
$89
TOUR B7
departs Brisbane 8.45am
returns 5.30pm
Includes:
Entry to Australia Zoo and Shows.
CROC EXPRESS TOUR Ex Gold Coast
DAILY - DIRECT TO ZOO
ADULT
$149
INFANT (1-2yr)
$0
CHILD (3-14yrs)
$99
TOUR G7
departs Gold Coast 7.30am
returns 6.30pm
Includes:
Entry to Australia Zoo and Shows.
Rates Valid: 01/04/15 - 31/03/16
Blockout Date: 25/12/15