Bedarra Island Accommodation
Bedarra Island accommodation is world class. There are only 14 private free standing villas and two luxury pavilions on the island catering for a maximum of 32 guests. The pavilions and point suites feature the ultimate in privacy and luxury and include their own plunge pools.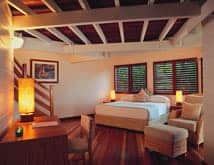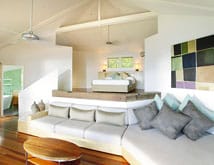 The villas are nestled on the hillside overlooking the beach which is only meters away and a short walk from the pool, restaurant and the legendary bar which is open 24 hours a day and included in the tariff. Help yourself to whatever takes your fancy, drift down to the beach and watch the sun set or return to the splendor of your accommodation and relax in privacy.