Bedarra Island Tours and Rentals
There is a wide range of experiences waiting for you on Bedarra Island tours and of the surrounding area. A few examples are diving, snorkelling, skydiving, rafting, bushwalking, horse riding, and scenic flights with a helicopter, sailing, fishing, and jet skiing.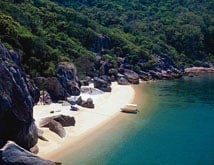 There are many self-guided tours of the island scenery. Guests can also purchase packages for snorkelling and scuba diving tours. For those who enjoy fishing, there are reef fishing charters available as well. Bedarra Island is also considered by many to be an ideal Island to holiday on, as it is an attraction within itself. So whenever you visit there is certain to be many Bedarra Island tours that will meet your requirements.