Cairns Activities & Attractions
There are so many fun activities to engage in while holidaying in, or visiting the tropical city of Cairns in Far North Queensland. It doesn't matter if you are a family group, a young couple on your tropical honeymoon, a businessman at a conference or you fit into some other category, Cairns has a million activities to keep you busy and entertained. Go to the movies, dine out in a sensational restaurant or café, play tennis or golf on one of the local resort courses, frolic on the beach, swim in the giant lagoon pool or take one of the sensational local tours to a world recognised destination.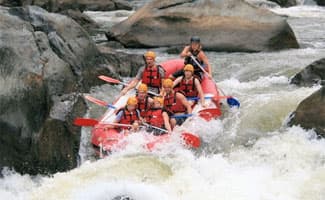 The tours on offer in Cairns are recognised around the world. The Great Barrier Reef lies just offshore and is visited daily by hundreds of different tours. You can go for a day or a week depending on your choices. Snorkelling, swimming and diving enthusiasts are catered for, whatever they want to do or see. Introductory dives and certification course are prolific and qualified divers can join trips to the outer reef or live aboard nearby tours and excursions deep into the more remote regions of the Coral Sea. You can also just relax on a luxury sailing boat visiting the local reefs and attractions. Tours to the Atherton Table land or the Daintree rainforest are really popular. These activities usually occupy a full day and include lunch and you will visit all the best tourist attractions in these regions.
There are several local golf courses that will welcome visitors and provide a challenging course. If you want to see the Australian wildlife, there are several parks and zoos with excellent displays. Large crocodiles are seen at most of these as well as the cuter Australian animals like Koala and Kangaroo. The Skyrail provides an opportunity to visit the town of Kuranda on the Atherton Tablelands. The Skyrail gondola system will carry you up the mountainside just meters above the rainforest canopy and then you return to Cairns will be on the train that travels across a spectacular bridge over the Barron River and adjacent to the magnificent Barron Falls.
Don't worry about getting bored on your holiday in Cairns as there are just too many packages,specials, deals and activities to engage in.