Coolum Luxury Accommodation - Five 5 Star Boutique Accommodation - Coolum Luxe
Some of the best luxury accommodation in Australia can be found around the Coolum area. This is a superb luxe beachside holiday location that has it all. One of the best surfing beaches on the Sunshine Coast, close proximity to excellent shopping facilities, many excellent restaurants and cafes all combine to make Coolum a desirable holiday destination and one where the best in luxury accommodation can be found. On the esplanade, overlooking the great surfing beach are several apartment style resorts and hotels. Most of these are walking distance from the shopping center and the beach and most have fantastic ocean views.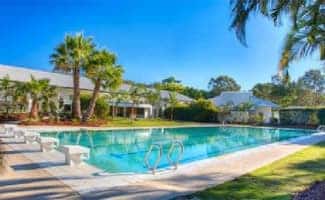 The Hyatt Coolum resort is the most popular in this category. Its five star accommodation coupled with one of the country's best golf courses attracts wealthy traveller from around the world. The Palmer Resort Coolum course itself, is famous as the permanent home of the Australian PGA tournament and there are always lots of well known people staying here. During the PGA itself you will see the hoi polloi of the golfing and television world in attendance.
Not far to the south is the beautiful Novotel Twin Waters Resort. They have great luxury accommodation, lots of water sports and a top class golf course. Next door is some of the best luxury accommodation in the region at the luxe Grand Mercure Apartments and beach houses.
Coolum has some of the best luxury places to stay on the Sunshine Coast.